Partner News
---
Space Sustainability Innovator ClearSpace Expands to the United States
Written by: Space Foundation Editorial Team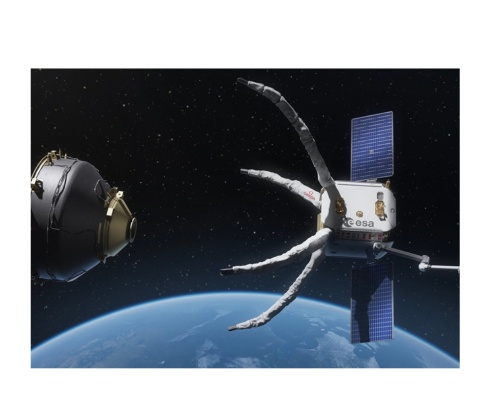 Image Credit: ClearSpace
COLORADO SPRINGS, Colo — April 17, 2023 — ClearSpace, the innovative deep-tech company founded in Switzerland, is on a mission to deliver transformative in-orbit services that enable a vibrant, resilient, and sustainable space industry. The announcement today of its US subsidiary, ClearSpace Today, Inc., represents its first expansion beyond Europe, bringing its core technologies to the world's largest space economy. 
ClearSpace energized the space community in 2020 when, as a start-up, it won a prime contract from the European Space Agency worth nearly $100 million to develop and conduct the world's first orbital debris removal mission, dubbed ClearSpace-1. Since then, the company has grown into a world-class team of nearly 100 engineers with offices in four countries across Europe, and now in the United States, working not just on ClearSpace-1, but also on an additional debris removal mission and a mission with Intelsat to extend the life of a satellite in geosynchronous orbit. 
The technologies developed and refined for those missions will serve as foundational capabilities and will be expanded to support the portfolio of services ClearSpace intends to offer to US customers in both public and private sectors. With the support of US partners, ClearSpace will expand its service offerings to not only include spacecraft disposal and life extension, but also in-space transport, inspection, assembly, manufacturing, repair, and recycling. 
Brian Smith, Senior Partner at In-Q-Tel, a participant in ClearSpace's recent Series A funding round, said: "IQT is pleased to welcome ClearSpace to the United States. We are confident that the capabilities they have developed over the last five years will be a valuable contribution to the U.S. space community." 
ClearSpace Chief Strategy Officer and US General Manager Tim Maclay said: "We are excited to bring our space technologies and services to the American marketplace. As a global leader in IOS, ClearSpace is in an excellent position to meet the needs of US customers in both public and private sectors. Combining our experience in Europe with the broad supplier base and deep talent pool present in the United States creates a potent recipe for a safer, more sustainable, and more circular space ecosystem." 
ClearSpace CEO and co-founder Luc Piguet said: "Space sustainability and resilient operations are global challenges. They transcend borders and continents. We are thrilled to join forces across the Atlantic and to build a sustainable future with the US space community. Now is the time to build the capabilities and relationships that will make our space operations safer and more sustainable, and we are confident that in-orbit services will promote further acceleration of commercial space activities while simultaneously safeguarding this precious environment for future generations."  
ClearSpace, an in-orbit servicing (IOS) company created in 2018, is intent on revolutionizing how space missions are conducted. ClearSpace is becoming now a global company with a holding in Luxembourg and dynamic engineering teams in Switzerland, the UK, Germany, Luxembourg and in the United States. ClearSpace is creating the technologies that will support a wide range of IOS applications, from disposal and in-orbit transport to inspection, assembly, manufacturing, repair, and recycling. ClearSpace aims to support institutions and commercial operators alike to enhance sustainable space operations and promote a circular space economy. In 2020, the company was awarded a service contract by the European Space Agency to develop ClearSpace-1, the world's first mission to remove a piece of debris from orbit. The ClearSpace-1 mission is also supported by Elite Partner Omega. ClearSpace is growing rapidly and is actively engaged in the initial phases of two additional in-orbit servicing missions.
About Space Symposium
Space Symposium, hosted by Space Foundation since 1984, is the premier assembly for the global space ecosystem. The live event, held in Colorado Springs, Colorado, is widely attended by commercial and government leaders, professionals, entrepreneurs, and teachers around the globe. To learn more about Space Symposium, visit www.space symposium.org.
###
ClearSpace Media Contact
Claudia Durgnat
Email: [email protected]
Phone: +41 78 211 93 33
---
Posted in Partner News