Space Foundation News
---
NSSO Director Addresses Space Foundation Correspondents Group
Written by: Space Foundation Editorial Team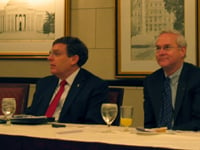 COLORADO SPRINGS, Colo. (Nov. 20, 2007) — On November 20, 2007, the Space Foundation's Washington D.C., office hosted another successful Space Foundation Correspondent's Group (SFCG) breakfast. National Security Space Office (NSSO) Director Joe Rouge was the featured speaker, addressing a group of reporters representing national, trade, and wire services. 
The NSSO facilitates the integration and coordination of defense, intelligence, civil, and commercial space activities.  As Director, Rouge leads a multi-agency unit tasked by the Under Secretary of the Air Force and the Director of the National Reconnaissance Office., providing leadership, planning, and policy direction, enabling National Security Space decision making.
Rouge and participating journalists engaged in discussion on a variety of topics including space situational awareness; use of commercial satellite communication by the defense and intelligence communities; operationally responsive space; common concerns across space communities; and more. 
The SFCG event was the second in a regular series of gatherings for Washington, D.C., based space, defense, science and technology, business, and international journalists to engage in dialogue with leaders from across the space industry. The first SFCG meeting was held in late September with NASA Deputy Administrator Shana Dale. In keeping with the Space Foundation's mission and focus on all aspects of space, SFCG events will feature representatives from across the space communities – civil, commercial, and national security.
Pictured: NSSO Director Joe Rouge and Space Foundation Vice President, Washington Operations, Research and Analysis Marty Hauser participate in the SFCG breakfast.
---
Posted in Space Foundation News