Space Foundation News
---
Jack Swigert Aerospace Academy Opening Celebration
Written by: developer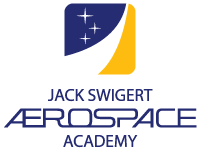 COLORADO SPRINGS, Colo. (Sep. 1, 2009) — The festive Aug. 26 opening celebration for the Jack Swigert Aerospace Academy in Colorado Springs featured special guest Virginia Swigert, sister of astronaut John L. "Jack" Swigert, for whom the school is named.
Jack Swigert served on NASA's Apollo 7 and Apollo 13 missions and died from bone cancer in 1982 shortly after being elected to the U.S. House of Representatives. The Space Foundation was founded in part to honor his memory and accomplishments.
Ms. Swigert traveled from the Denver area to attend the celebration dedicating the school to her brother's memory. She said that although her brother never had children, "he loved children and always took time to give them attention and encouragement."
The Jack Swigert Aerospace Academy is a unique aerospace-themed public middle school created through a partnership between the Space Foundation and Colorado Springs School District 11 (D-11).
The celebration, which was covered widely on local Colorado Springs media, began with the arrival of a Colorado Springs Police Department helicopter. A formal ceremony included a space launch video, a color guard from Ft. Carson Army Post, presentation of a school photo to Ms. Swigert, and presentation of a statue of Jack Swigert to the Academy. Formal comments were made by:
Space Foundation Chief Executive Officer Elliot Pulham
Colorado Springs District 11 Superintendent Dr. Nicholas Gledich
Colorado Springs Mayor Lionel Rivera
Space Foundation Vice President of Education Iain Probert
D-11 School Board President Tami Hasling
Colorado Council on the Arts Director Elaine Mariner
State of Colorado Office of Economic Development & International Trade Director Don Marostica, speaking on behalf of Colorado Gov. Bill Ritter
Jack Swigert Aerospace Academy Principal Larry Bartel
Afterwards, D-11 served lunch on the ground and the Space Foundation treated students to rocket popsicles while its education staff launched various rockets in the grassy courtyard outside the Space Foundation Discovery Institute, which is co-located on the campus.
Virginia Swigert shared remembrances about her famous brother and summed up the day's events, "He would have been pleased." 
---
Posted in Space Foundation News