Space Foundation News
---
Space Watch Covers Historic Space Foundation Delegation Visit to China; Upcoming Strategic Space Symposium
Written by: developer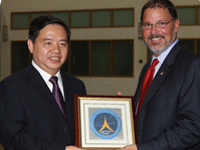 COLORADO SPRINGS, Colo. (Oct. 2, 2009) -- The October issue of the Space Foundation's e-newsletter, Space Watch, features Chief Executive Officer Elliot Pulham's account of his recent visit to China to tour the country's manned spaceflight facilities and meet with leaders of China's human spaceflight program. Pulham and his delegation of Space Foundation executives, journalists, and a former NASA administrator were the first Westerners to visit many of the facilities they toured.
Space Watch is full of up-to-the-minute information about the Strategic Space Symposium, coming up Nov. 2-4 at the Qwest Center Omaha in Omaha, Neb., as well as articles on international space developments, water on the moon, and other fascinating space developments and Space Foundation activities.
Space Watch is distributed monthly to subscribers via email as well as being posted on the Space Foundation's home page. If you don't receive a copy, click here to see what you're missing. And, if you want to get on the distribution list, click on the subscribe button at the bottom of the first page.
---
Posted in Space Foundation News