Report from Washington, D.C.
---
Payton Speaks at Space Foundation Luncheon
Written by: developer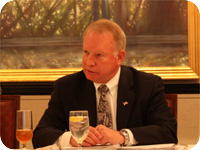 Deputy Under Secretary of the Air Force for Space Programs, Gary Payton, spoke to reporters Feb. 4 at a Space Foundation Correspondents Group gathering in Washington, D.C. He talked about the new Air Force budget, including plans for space protection, operationally responsive space (ORS), and satellite programs, including five Air Force satellite launches scheduled for 2010.
Payton said that because the Department of Defense is concerned about potential threat to its surveillance and reconnaissance satellites, primarily from China, it is exploring ways to improve space protection and reduce reliance on satellites. This could include encryption, frequency hopping, and using more aircraft for intelligence collecting, surveillance and reconnaissance. He stressed that the top priority in military space is mission continuity, ensuring the health of the satellite constellations as well as upgrading capacity.
Payton said despite the learning curve created when baby boomers begin to retire, the younger generation is very technically qualified. He said that projects with shorter life-cycles are good for new employees because they allow them to see the result of their work and decisions and that the Air Force is trying to take this approach in the Air Force Research Lab and on the ORS programs.
He talked about the interim Space Posture Review report, issued to Congress on Feb.1, which said that "congested and contested" environment in space is getting worse, not better. Congested is illustrated by the collision between the Russian and the Iridium communications satellites last year, and contested is illustrated by continued jamming, dazzling, and kinetic kill demonstrations. Both make space protection an important issue.
Payton touched briefly on the effect of cancelling the Constellation program on Air Force plans, saying that the Air Force does a lot of work with NASA to maintain liquid and solid rocket boosters. If ATK doesn't manufacture the boosters for Constellation, he said, this could increase costs for the Evolved Expendable Launch Vehicle (EELV). He said that the most important thing is to retain the reliability of the rocket. Payton also mentioned that NASA and Air Force Space 'share' a workforce and he wonders what effect layoffs will have on maintaining a skilled workforce. He specifically pointed to how the lack of NASA business could result in increased propulsion system costs, saying that the Air Force is looking at more efficient procurement methods, such as making multi-year purchases, to help bring down costs without sacrificing reliability.
The luncheon is part of a regular series of gatherings sponsored by the Space Foundation for Washington, D.C.-based space, defense, science and technology, business, and international journalists to engage in dialogue with leaders from across the space industry.
 
This article is part of Space Watch: March 2010 (Volume: 9, Issue: 3).
---
Posted in Report from Washington, D.C.