Space Foundation Press Releases
---
Live Broadcast of Obama Space Policy Speech, Discussion Added to 26th National Space Symposium
Written by: developer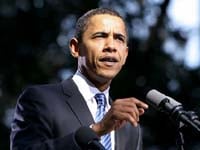 COLORADO SPRINGS, Colo. (Apr. 11, 2010) — The Space Foundation has added a live link to President Barack Obama's scheduled April 15 address on space policy and a follow-on analysis and discussion to the agenda of the 26th National Space Symposium, which kicks off this Monday at The Broadmoor Hotel in Colorado Springs, Colo. The President, along with other officials and space leaders, will discuss the new course the Administration has proposed for NASA and the future of U.S. human space flight. According to the White House, Obama will "focus on the goals and strategies in this new vision, the next steps, and the new technologies, new jobs, and new industries it will create."
Following the live broadcast, the National Space Symposium will present an "instant analysis," moderated by Space Foundation Vice President Washington Operations, Research & Analysis Marty Hauser and featuring panelists Patti Grace Smith, principal of Patti Grace Smith Consulting and former associate administrator for commercial space transportation for the Federal Aviation Administration (FAA), and the Honorable Robert S. Walker, space strategist and chairman of Wexler & Walker Public Policy Associates.
The broadcast is slated for 12:55 p.m., Thursday, April 15, in the International Center at The Broadmoor, followed immediately by the panel discussion.
About Smith
Patti Grace Smith joined the U.S. Department of Transportation (DOT) in 1994 and went on to serve as associate administrator for commercial space transportation for the FAA. During her 11-year career at the FAA and DOT, she was instrumental in the growth and change in the U.S. commercial launch industry, facilitating both technological and infrastructure developments and initiating and fostering greater cooperation and partnerships between aviation and space functions in the agency. Under Smith's leadership, the FAA became the recognized global leader in private human space flight She now has her own consulting firm, working with space industry clients including Virgin Galactic.
About Walker
Former Congressman and Wexler & Walker Chairman Robert S. Walker is recognized as a leading political strategist. He represented Pennsylvania's 16th District for 20 years in the U.S. House of Representatives, where he was chairman of the Committee on Science and Technology (then called the Science Committee), chief deputy whip, vice chairman of the Budget Committee, chairman of the Republican Leadership, and Speaker Pro Tempore. In 2001, he was appointed to chair the Commission on the Future of the U.S. Aerospace Industry and, in 2004, he served on the President's Commission on Implementation of the U.S. Space Exploration Policy. Today he is on the boards of The Aerospace Corporation, SpaceAdventures, SpaceDev, and American Solutions. From 2006-2008, he was chairman of the Space Foundation and is now a Director Emeritus of that board.
About the 26th National Space Symposium
Beginning April 12 and running through April 15, the 26th National Space Symposium offers workshops, forums, panels, and presentations covering all aspects of space, including a presentation by NASA Administrator Charles Bolden, and a panel discussion on NASA – The Budget and The Way Ahead, both on Tuesday, April 13. The NASA budget panel is moderated by Lon Levin, treasurer of the Space Foundation Board of Directors, and features:
Bretton Alexander, president, Commercial Spaceflight Federation, and chair, Commercial Space Committee, NASA Advisory Council
Frank DiBello, president and chief executive officer, Space Florida
Lori B. Garver, deputy administrator, NASA 
George C. Nield, Ph.D., associate administrator for commercial space transportation, Federal Aviation Administration
Scott Pace, Ph.D., professor of the practice of international affairs and director of the Space Policy Institute, George Washington University 
Learn more about the agenda, speakers, and special Symposium events at www.NationalSpaceSymposium.org/.
26th National Space Symposium Sponsors
Sponsors of the 26th National Space Symposium include Analytical Graphics, Inc.; ARES Corporation; Astrium North America; Astrotech Space Operations; ATK; AVIATION WEEK; Ball Aerospace & Technologies Corp.; Boeing; Booz Allen Hamilton; Cisco Systems, Inc.; Cobham; InSpace21; Defense Systems; General Dynamics; GMV; IBM; InSpace21; Intelsat General Corporation; International Space University; Lockheed Martin; Maui Economic Development Board; Northrop Grumman; Orbital Sciences Corporation; Pratt & Whitney Rocketdyne; Raytheon; SAIC; SES WORLD SKIES, USG; Space Generation Advisory Council; Space News; Space Systems/Loral; SpaceX; Stellar Solutions; United Launch Alliance; and United Space Alliance.
About the Space Foundation
The Space Foundation is an international, nonprofit organization and the foremost advocate for all sectors of the space industry – civil, commercial, military and intelligence. Founded in 1983, the Space Foundation is a leader in space awareness activities, educational programs that bring space into the classroom, and major industry events, all in support of its mission "to advance space-related endeavors to inspire, enable, and propel humanity." Through its Space Certification and Space Technology Hall of Fame®  programs, the Space Foundation recognizes space-based technologies and innovations that have been adapted to improve life on Earth. Headquartered in Colorado Springs, the Space Foundation conducts research and analysis and government affairs activities from its Washington, D.C., office and has field representatives in Houston, Texas, and Cape Canaveral, Fla. For more information, visit www.SpaceFoundation.org. Follow us on Twitter, Facebook, and LinkedIn, and read about the latest space news and Space Foundation activities in Space Watch.
#   #  #
---
Posted in Space Foundation Press Releases