Space Foundation Press Releases
---
China's Manned Space Program Takes the Stage at 26th National Space Symposium
Written by: developer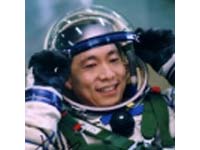 COLORADO SPRINGS, Colo. (Apr. 10, 2010) -- China has amazed the global space community with its rapid advancement as a space leader, becoming only the third nation with capability to independently put a human into space. Two representatives of China's human spaceflight program will be featured at the 26th National Space Symposium, which starts Monday at The Broadmoor Hotel in Colorado Springs, Colo.
On Wednesday, April 14, Wang Wenbao, director general of the China Manned Space Engineering Office (CMSEO), will appear as a featured speaker. On Thursday, April 15, China's first astronaut and head of the Chinese astronaut training program Major General Yáng Lìwěi will participate in a panel, Why We Fly - Common Experience, Uncommon Perspectives, along with private space explorer Richard Garriott and AVIATION WEEK President and former NASA Astronaut Tom Henricks.
Wang Leads Ambitious Program
As head of CMSEO, Wang Wenbao is a leading figure in China's successful human spaceflight program. CMSEO, which is based in Beijing, is responsible for jointly operating the engineering and administrative functions of the Chinese manned space flight program. CMSEO has eight subdivisions that encompass astronautics; spacecraft development and operation; launch vehicle development and operation; launch site operations; telemetry, tracking and communications; landing; life support systems and space applications. Under Wang's leadership, CMSEO has engaged in the high-profile Shenzhou missions, most notably Shenzhou 3, 5, and 7, which successfully demonstrated China's proficiency in manned space flight. The next immediate CMSEO program milestones for Shenzhou are development, launch, and operation of missions to China's Tiangong-1 space station.
Yáng Made Space History
A former military pilot and CMSEO astronaut, Major General Yáng Lìwěi was the first man sent into space by China. He was selected as an astronaut candidate in 1998 and chosen from the final pool of 13 candidates to fly on China's first manned space mission. A lieutenant colonel at the time of his mission, Yáng was launched into space aboard his Shenzhou 5 spacecraft atop a Long March 2F rocket from Jiuquan Satellite Launch Center on Oct. 15, 2003. Yáng's craft landed in the grasslands of Inner Mongolia the next day after completing 14 orbits and traveling more than 600,000 km. Yáng now leads the Chinese astronaut training program at the China Astronaut Training Center in Beijing. He has more than 1,350 flight hours.
Presentation Reflects Space Foundation's Relationship with China
The Space Foundation, sponsor of the National Space Symposium, has a strong - and expanding - relationship with China's space program. Last year, the Space Foundation recognized Shenzhou 7 at the 25th National Space Symposium with the prestigious Space Achievement Award, citing the mission's half-dozen landmark accomplishments, including the first Chinese flight of a three-person crew, an impressive first space walk, and demonstrated capabilities for orbital rendezvous and docking. This year's recipient is the Hubble Space Telescope Repair Mission Team.
Last September, Space Foundation Chief Executive Officer Elliot Pulham led a delegation to visit China's space organizations and facilities. The delegation comprised Pulham; Henricks; former deputy NASA administrator and former shuttle astronaut Fred Gregory; Space Foundation Senior Vice President - Strategic Communications Steve Eisenhart; Space Foundation Vice President - Washington, D.C., Operations, Government Affairs Brendan Curry; Space Foundation Special Adviser - International Affairs William V. Parker; and Aviation Week & Space Technology editor Frank Morring, Jr.
This year, two separate delegations from China - one from CMSEO and one comprising representatives from the Chinese Society of Astronautics (CSA) and China Aerospace Science and Industry Corporation (CASIC) - are attending the 26th National Space Symposium at the invitation of the Space Foundation. The delegation members are among more than 100 individuals from 20 foreign countries who are attending the Symposium.
About the 26th National Space Symposium
Beginning April 12 and running through April 15, the 26th National Space Symposium offers workshops, forums, panels, and presentations covering all aspects of space, including a live broadcast of President Barack Obama's scheduled April 15 address on space policy from Kennedy Space Center in Florida. Learn more about the agenda, speakers, and special Symposium events at www.NationalSpaceSymposium.org/.
26th National Space Symposium Sponsors
Sponsors of the 26th National Space Symposium include Analytical Graphics, Inc.; ARES Corporation; Astrium North America; Astrotech Space Operations; ATK; AVIATION WEEK; Ball Aerospace & Technologies Corp.; Boeing; Booz Allen Hamilton; Cisco Systems, Inc.; Cobham; InSpace21; Defense Systems; General Dynamics; GMV; IBM; InSpace21; Intelsat General Corporation; International Space University; Lockheed Martin; Maui Economic Development Board; Northrop Grumman; Orbital Sciences Corporation; Pratt & Whitney Rocketdyne; Raytheon; SAIC; SES WORLD SKIES, USG; Space Generation Advisory Council; Space News; Space Systems/Loral; SpaceX; Stellar Solutions; United Launch Alliance; and United Space Alliance.
About the Space Foundation
The Space Foundation is an international, nonprofit organization and the foremost advocate for all sectors of the space industry - civil, commercial, military and intelligence. Founded in 1983, the Space Foundation is a leader in space awareness activities, educational programs that bring space into the classroom, and major industry events, all in support of its mission "to advance space-related endeavors to inspire, enable, and propel humanity." Through its Space Certification and Space Technology Hall of Fame®  programs, the Space Foundation recognizes space-based technologies and innovations that have been adapted to improve life on Earth. Headquartered in Colorado Springs, the Space Foundation conducts research and analysis and government affairs activities from its Washington, D.C., office and has field representatives in Houston, Texas, and Cape Canaveral, Fla. For more information, visit www.SpaceFoundation.org. Follow us on Twitter, Facebook, and LinkedIn, and read about the latest space news and Space Foundation activities in Space Watch.
Pictured: Major General Yáng Lìwěi
#   #  #
---
Posted in Space Foundation Press Releases