Space Foundation News
---
Space Foundation Congratulates SpaceX on Falcon 9 Launch
Written by: developer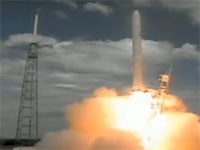 COLORADO SPRINGS, Colo. (Jun. 4, 2010) — The Space Foundation congratulates SpaceX on today's successful test launch of the Falcon 9 rocket.
"This is an amazing accomplishment that signals a new era in space transportation," said Space Foundation Chief Executive Office Elliot Pulham. "We have long predicted that commercial space flight would take off; it is certainly exciting to watch SpaceX as it boldly redefines the space marketplace."
To see CNN coverage of the launch, click here.
---
Posted in Space Foundation News