Space Foundation News
---
You Can Still Vote
Written by: developer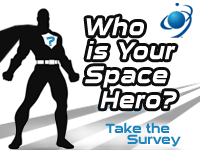 COLORADO SPRINGS, Colo. (Aug. 12, 2010) — There is still time to vote on your favorite Space Hero. It's easy. There are no lists to choose from, no specific criteria, no rules … just give us a name and tell us why … click here to take the survey.
Then, watch the Space Foundation website to see who comes out at the top of the list.
And, don't forget, you can be a Space Hero, too. Just help your friends, family, and colleagues understand that space brings great benefits to life on Earth … through useful products … through life-enhancing services… and through the wonder of discovery.
To keep up with what's going on in space and at the Space Foundation, follow us on Facebook, Twitter, and LinkedIn.
---
Posted in Space Foundation News