Space Foundation Press Releases
---
27th National Space Symposium to Feature Two Space Shuttle Events
Written by: developer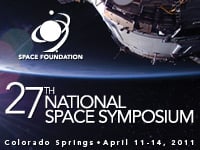 COLORADO SPRINGS, Colo. (Oct. 7, 2010) — During its 30 years of service, the Space Shuttle changed almost everything we know about human space flight: it spawned countless discoveries that have improved both space travel and everyday life on Earth, it facilitated ground-breaking research, it made "routine space flight" possible and it created thousands of new space heroes – on the ground and on the Shuttle.
As NASA prepares for the final Space Shuttle mission, the Space Foundation is dedicating two events at the upcoming 27th National Space Symposium to honoring this extraordinary program. The Symposium will be held at The Broadmoor Hotel in Colorado Springs, Colo., on April11-14, 2011. The Industry Salutes the Space Shuttle luncheon and the Space Shuttle Commanders' Forum will both be presented on April 12, the 30th anniversary of the launch of the first Space Shuttle: Columbia's STS-1 mission.
Industry Salutes the Space Shuttle 
The Industry Salutes the Space Shuttle luncheon, hosted by the Space Foundation and co-sponsor United Space Alliance (USA), will focus on thanking and recognizing the organizations and people who have contributed to the STS program. It will feature a video tribute that captures the Shuttle program at its finest moments and will culminate in the presentation of an award to NASA  in honor of the thousands of men and women who have dedicated their lives to the success of the program. 
The Industry Salutes the Space Shuttle luncheon is open to all Symposium attendees and requires separate registration. It is expected to sell out early.
 
Space Shuttle Commanders' Forum
Part of the 27th National Space Symposium general session agenda, the Space Shuttle Commanders' Forum will feature five former Shuttle commanders:
Jim Banke, host, "Space Talk with Jim Banke"
Col. Robert D. Cabana, USMC (Retired), former commander, Space Shuttles Columbia and Endeavour, and current director of John F. Kennedy Space Center
Col. Eileen Collins, USAF (Retired), former commander, Space Shuttles Columbia and Discovery, and recipient of the Space Foundation's 2007 Douglas S. Morrow Public Outreach Award 
Col. Fred Gregory, USAF (Retired), former commander, Space Shuttles Atlantis and Discovery, former NASA deputy administrator, and managing director — aerospace and defense strategy for Lohfeld Consulting Group
Col. Brewster H. Shaw, Jr., USAF (Retired), former commander, Space Shuttles Columbia and Atlantis, current vice president and general manager, Space Exploration, for Integrated Defense Systems at The Boeing Company, and a current member of the Space Foundation Board of Directors
Vice Adm. Richard H. Truly, USN (Retired), former commander, Space Shuttle Challenger, former NASA administrator and a life director of the Space Foundation
The panelists will discuss their experiences traveling in space and give their perspectives on the current space environment.
 
About the 27h National Space Symposium
Presented by the Space Foundation, the 27th National Space Symposium brings together all sectors of space to highlight accomplishments and address opportunities and issues facing the global space community today. The Symposium offers presentations and panels covering all aspects of space, plus special events, presentation of several prestigious space-related awards and the Boeing Exhibit Center, which has been expanded to three halls for 2011.
The 27th National Space Symposium will feature Cyber 1.1, which covers the emerging field of cyberspace, and an expanded New Generation Space Leaders programs for young, up-and-coming space professionals, age 35 and younger.
Online registration and more information, including agenda, speakers and exhibitors, are available at www.NationalSpaceSymposium.org.
Register Now
Industry attendees who register before Jan. 14, 2011, can save up to $500 with the Super Early Bird rate.
27th National Space Symposium Co-Sponsors
Confirmed co-sponsors of the 27th National Space Symposium include a.i. solutions; Analytical Graphics, Inc. (AGI); ATK; Ball Aerospace & Technologies Corp.; The Boeing Company; Cisco Systems, Inc.; General Dynamics; Integral Systems; International Space University; Lockheed Martin; Northrop Grumman; Pratt & Whitney Rocketdyne; Raytheon; SpaceX; and United Space Alliance. Space News International and Aviation Week are official media partners. Additional sponsorship opportunities are available; interested companies should contact [email protected].
About United Space Alliance
Established in 1995, USA is the world leading space operations company. USA is NASA's primary industry partner in human spaceflight operations, including the Space Shuttle, the International Space Station (ISS) and exploration programs. USA has expertise in mission planning and preparation, flight design, training, flight hardware and software processing, launch and recovery operations and real-time mission operations. In addition, USA has leveraged its space operations expertise in support of Department of Defense, commercial and international customers. The company is based in Houston and has employees in Florida, Alabama, California, Washington, D.C., and Russia.
About the Space Foundation
The Space Foundation is an international, nonprofit organization and the foremost advocate for all sectors of the space industry – civil, commercial, military and intelligence. Founded in 1983, the Space Foundation is a leader in space awareness activities, educational programs that bring space into the classroom, and major industry events, including the National Space Symposium, all in support of its mission "to advance space-related endeavors to inspire, enable and propel humanity." An expert in all aspects of the global space industry, the Space Foundation publishes The Space Report: The Authoritative Guide to Global Space Activity and provides three indices that track daily performance of the space industry. Through its Space Certification and Space Technology Hall of Fame® programs, the Space Foundation recognizes space-based technologies and innovations that have been adapted to improve life on Earth. Headquartered in Colorado Springs, the Space Foundation conducts research and analysis and government affairs activities from its Washington, D.C., office and has field representatives in Houston, Texas, and Cape Canaveral, Fla. For more information, visit www.SpaceFoundation.org. Follow us on Twitter, Facebook and LinkedIn, and read about the latest space news and Space Foundation activities in Space Watch.

# # #
---
Posted in Space Foundation Press Releases