Space Foundation News
---
Space Technology Hall of Fame® Inductee wins 2010 Robert H. Goddard Award for Science
Written by: developer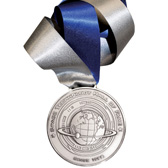 COLORADO SPRINGS, Colo. (Oct. 6, 2010) — Randy Kimble, Ph.D., who was inducted into the Space Foundation's Space Technology Hall of Fame® in 1997, is among three employees of NASA's Goddard Space Flight Center who have been honored with the 2010 Robert H. Goddard Award for Science.
About Kimble
Kimble, who now works on the James Webb Telescope as Integration and Test Project Scientist, was selected as Goddard award winner for exceptional achievement in the development of the Wide Field Camera 3 (WFC3), which was installed on the Hubble Space Telescope (HST) in 2009 during servicing mission 4. He was cited for overall leadership of instrument development for the HST and for ensuring that high quantum efficiency near infrared (NIR) detectors were included in the WFC3. The camera is more than 40 times more efficient than HST's previous-generation infrared imager.
Kimble has a bachelor's degree in physics from the Massachusetts Institute of Technology and a master's degree and a Ph.D. from the University of California, Berkeley. He served on the research staff of the Department of Physics and Astronomy at The Johns Hopkins University, where he was deputy project scientist for the Hopkins Ultraviolet Telescope during its development and flight on the Astro-1 Space Shuttle mission. He joined Goddard in 1990 and has worked on both the HST and the Webb telescope. In addition to induction into the Space Technology Hall of Fame®, Kimble received the NASA Exceptional Achievement Medal in 1998.
Kimble's Space Technology Hall of Fame® honor was for his work on stereotactic breast biopsy technology, which adapted space imaging processes designed for the HST into a breast cancer detection system.
About the Space Technology Hall of Fame®
Since its inception in 1988, the Space Technology Hall of Fame® has honored dozens of technologies and hundreds of organizations and individuals for transforming technologies originally developed for space applications into products and services that improve life on Earth. To read about the Space Technology Hall of Fame®, go to www.SpaceTechHallofFame.org/; to read about Kimble's induction, go to www.spacetechhalloffame.org/inductees_1997_Stereotactic_Breast_Biopsy_Technology.html; to read about the Space Foundation, go to www.SpaceFoundation.org.
About The Goddard Award
The Goddard Award is named in honor of rocketry pioneer Robert Hutchings Goddard, universally recognized as "the father of the U.S. space program." In 1926, Goddard launched his first liquid fuel rocket in Auburn, Mass. Larger scale experiments and a skeptical local government made it necessary for Goddard to move to New Mexico in 1930, where he carried on a major series of tests until he was called to Washington, D.C., in 1942 as chief of Navy research on jet-propelled planes. The Goddard award has been bestowed on 112 NASA Goddard Space Flight Center employees and alumni since 1961. The 2010 awards were presented on Sept. 8 at the Goddard Center in Greenbelt, Md.
The other two Goddard Award honorees are Matthew Greenhouse, Ph.D., who was selected for his leadership of the Webb telescope instrument teams around the world, and Alexander Moiseev, Ph.D., who was cited for developing analysis methods to measure high-energy electrons with the Fermi Space Telescope's Large Area Telescope (LAT) AntiCoincidence Detector.
To read about all the Goddard honorees, go to: www.nasa.gov/centers/goddard/news/releases/2010/10-088.html
---
Posted in Space Foundation News