Space Foundation Press Releases
---
Craig Barrett, Retired Intel CEO/Chairman, to Address 27th National Space Symposium Corporate Partnership Dinner
Written by: developer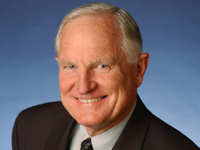 COLORADO SPRINGS, Colo. (Dec. 7, 2010) — Education advocate and retired Intel Chief Executive Officer/Chairman Craig R. Barrett, Ph.D., will speak about the crisis in science, technology, engineering and mathematics (STEM) education and potential solutions at the 27th National Space Symposium Corporate Partnership Dinner, April 12, 2011, at The Broadmoor Hotel in Colorado Springs, Colo.
The event, which recognizes the companies and organizations that support, sponsor and partner with the Space Foundation, will focus on how the Foundation's partners are supporting and improving STEM education to build a more proficient space workforce. Lockheed Martin is co-sponsoring the dinner.
Barrett, a leading advocate for improving education in the U.S. and around the world, is a vocal spokesman for the value technology can provide in raising social and economic standards globally. The chairman of the board of Intel Corporation from 2005 to 2009, Barrett has broad experience in both industry and academia.
About Barrett
A native of San Francisco, Barrett earned Bachelor of Science, Master of Science and Ph.D. degrees in materials science from Stanford University, Palo Alto, Calif. After graduation, he joined the Stanford faculty in the Department of Materials Science and Engineering, rising to the rank of associate professor. He was a Fulbright Fellow at Danish Technical University in Denmark and a NATO Postdoctoral Fellow at the National Physical Laboratory in England. He has written a textbook on materials science and more than 40 technical papers dealing with the influence of microstructure on the properties of materials.
Barrett joined Intel Corporation in 1974 and held increasingly responsible positions, including vice president, senior vice president and executive vice president. In 1992, he was elected to Intel Corporation's board of directors and was promoted to chief operating officer in 1993. Barrett became Intel's fourth president in 1997, chief executive officer in 1998 and chairman of the board in 2005.
In addition to his teaching and corporate work, Barrett has worked with – and continues to serve on – numerous non-profit and advocacy organizations, including the United Nations Global Alliance for Information and Communication Technologies; Achieve, Inc.; Change The Equation, a national STEM initiative; the Board of the Fund for Development of the Center for Elaboration and Commercialization of New Technologies; the President's Advisory Committee for Trade Policy and Negotiations; the Business Coalition for Student Achievement; the National Innovation Initiative Leadership Council; the Board of Trustees for the U.S. Council for International Business; the Clinton Global Initiative Education Advisory Board; the National Governors' Association Task Force on Innovation America; the Committee on Scientific Communication and National Security; the National Academy of Engineering; the Board of Directors of the U.S. Semiconductor Industry Association; the National Action Council for Minorities in Engineering; and TechNet. He also serves on the boards of K12 Inc; Society for Science and the Public, and Dossia. Barrett is president and chair of BASIS Schools, Inc. and is on the faculty of Thunderbird School of Global Management.
About the Corporate Partnership Dinner
A key event at the annual National Space Symposium, the Corporate Partnership Dinner recognizes the organizations that support Space Foundation education, research, analysis, policy and space awareness programs. The 2011 dinner will focus on the many education initiatives of Space Foundation partner organizations, with emphasis on STEM programs.
"Our corporate partners share our commitment to improving the overall state of education and to building a competent, innovative workforce for tomorrow," said Space Foundation Chief Executive Officer Elliot Pulham. "Having a speaker of Dr. Barrett's stature with us underscores how very seriously the space community takes this issue and how much we want meaningful change." 
Admission to the dinner is included with military/government registration and is an extra purchase for industry attendees. Seating is limited and the event tends to sell out early.
About the 27th National Space Symposium
The 27th National Space Symposium features forums, panels, presentations, speeches, special events and ample opportunity to hear from and network with the space community's most influential leaders. In addition to the Corporate Partnership Dinner, the 2011 event will feature  a one-day session on cyberspace, Cyber 1.1; expanded New Generation Space Leaders programs for young, up-and-coming space professionals, age 35 and younger; special awards events; and an educational component that extends the Space Foundation's comprehensive space-based education programs.  
Register Now
Online registration and more information, including agenda, speakers and exhibitors, are available at www.NationalSpaceSymposium.org. Industry attendees who register before Jan. 14, 2011, can save up to $500 with the Super Early Bird rate.
27th National Space Symposium Co-Sponsors
Confirmed co-sponsors of the 27th National Space Symposium include a.i. solutions; Analytical Graphics, Inc. (AGI); ATK; Ball Aerospace & Technologies Corp.; The Boeing Company; Booz Allen Hamilton; Cisco Systems, Inc.; General Dynamics; Integral Systems; International Space University; Lockheed Martin; Northrop Grumman; Pratt & Whitney Rocketdyne; Raytheon; SpaceX; Stellar Solutions; and United Space Alliance. Space News International and Aviation Week are official media partners. Additional sponsorship opportunities are available; interested companies should contact [email protected].
About the Space Foundation
The Space Foundation is a global, nonprofit organization and the foremost advocate for all sectors of the space industry – civil, commercial, military and intelligence. Founded in 1983, the Space Foundation is a leader in space awareness activities, educational programs that bring space into the classroom, and major industry events, including the National Space Symposium, all in support of its mission "to advance space-related endeavors to inspire, enable and propel humanity." An expert in all aspects of the global space industry, the Space Foundation publishes The Space Report: The Authoritative Guide to Global Space Activity and provides three indices that track daily performance of the space industry. Through its Space Certification and Space Technology Hall of Fame® programs, the Space Foundation recognizes space-based technologies and innovations that have been adapted to improve life on Earth. Headquartered in Colorado Springs, the Space Foundation conducts research and analysis and government affairs activities from its Washington, D.C., office and has field representatives in Houston, Texas, and Cape Canaveral, Fla. For more information, visit www.SpaceFoundation.org. Follow us on Twitter, Facebook and LinkedIn, and read about the latest space news and Space Foundation activities in Space Watch.
# # #
---
Posted in Space Foundation Press Releases