Partner News
---
Outlast Develops First Climate-Regulating Polyester Fiber with Phase Change Material; Not Too Hot and Not Too Cold
Written by: developer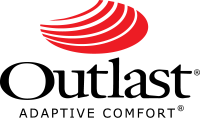 HEIDENHEIM, Germany (Dec. 31, 2010) – Outlast Technologies broadens its product offering by maintaining a steady pace of innovation.
After intensive research and development, Outlast Technologies, Inc., Boulder/Colorado, the market leader in temperature regulating phase change materials (PCMs), is pleased to announce the introduction of Outlast® polyester fiber. This announcement comes just four years after the introduction of the first Outlast® viscose fiber and eleven years after the introduction of Outlast® acrylic fiber with PCM.
The newest member of the Outlast fiber family is a bi-component fiber with a PCM core and a polyester sheeth. Staple fibers will launch in market first, followed by filament fibers once the production process has been fully refined.
"We hope to have the first Outlast® polyester filament fibers available in 2011," says Martin Bentz, Managing Director of Outlast Europe GmbH, Heidenheim/Germany.
The new Outlast® polyester fiber offers the added value of balancing temperature coupled with the characteristics of a conventional polyester fiber (e.g. low moisture absorption; ability to transport moisture; improved wrinkle resistance; superior light, water and wind resistance and an above average durability). The result is increased comfort – chilling and sweating are reduced due to the optimum climate regulation.
"Sports apparel made of synthetic fibers such as polyester dominates the market," continues Bentz. "We believe that with our new Outlast® polyester fiber we can offer a significant added value, particularly for the functional apparel market."
The new fiber with temperature management aligns particularly well with underwear and other products worn next to skin such as socks, t-shirts, shirts and trousers. At ispo, the international fair for Sports Equipments and Fashion held in Munich, Outlast will exhibit and present this latest innovation. Come visit and experience the Outlast® difference, keeping with the slogan: not too hot, not too cold, just right.
Outlast presents the newest innovation, Outlast® polyester, at ispo from 6 to 9 February, 2011, in Munich; Hall B6, Stand 138. Outlast Outlast Technologies, Inc., a privately held U.S. corporation, is the worldwide leader in phase change materials and applications.
Outlast® technology is the heat management technology originally developed for NASA that enables any textile to absorb, store and release heat. Outlast® technology pro-actively responds to changes in skin temperature to manage heat and reduce moisture for everyday comfort. For over 20 years, Outlast has been committed to the development of new fibers, fabrics and coatings incorporating phase change materials, expanding the use of Outlast® technology across more than 200 brands and a multitude of products in apparel, footwear, bedding, packaging and labels, and accessories. For more information, please visit www.outlast.com. Outlast®, Adaptive Comfort®, Thermocules® and …not too hot …not too cold …just right™ are trademarks of Outlast Technologies, Inc.
###
Contact:
Outlast Barbara Fendt Marketing & PR Outlast Europe GmbH
In den Seewiesen 26/1 D – 89520 Heidenheim, Germany
Phone: +49.7321.272 27 13
Fax: +49.7321.272 27 10
Mail: [email protected]
URL: www.outlast.com
---
Posted in Partner News