Report from Headquarters
---
Year in Review: Global Influence
Written by: developer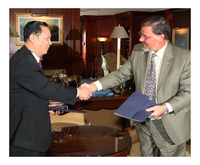 The following is part of a series of six Space Watch articles reporting on Space Foundation activities and accomplishments in 2010. You can read them all in this issue. To download a copy of the full report, click here.
For the Space Foundation, 2010 was a defining year. The nation's foremost space advocacy organization expanded our global reach, increased our already significant impact on science, technology, engineering and mathematics (STEM) education and teacher professional development, provided valuable research and education for policy makers and industry leaders, rolled out programs for young space professionals and held the largest, most comprehensive National Space Symposium in 26 years.
Long a proponent of international space cooperation and collaboration, the Space Foundation continued to expand our international reach in 2010. A visible participant in conferences and events in Beijing, Berlin, London, Paris, Prague, Shanghai and Vienna, the Space Foundation also provided support and counsel on global issues to the White House and to international space organizations:
The Space Foundation continued to serve in an advisory role with the United Nations' Committee on the Peaceful uses of Outer Space (UNCOPUOS)
Our Washington Office worked closely with embassies, the U.S. arms of international space agencies and visiting delegations
Of the more than 9,000 people who participated in the 26th National Space Symposium, more than 150 of them were representing a country other than the U.S. In all, 20 countries were represented.
The Space Foundation served as local host for an International Space University's Executive Master of Business Administration class in Colorado Springs last spring
Pictured: Space Foundation Chief Executive Officer Elliot Pulham, right, shakes hands with YANG Jun Hua after signing a memorandum of understanding with the Chinese Society of Astronautics (CSA); to see the full story, click here.
This article is part of Space Watch: January 2011 (Volume: 10, Issue: 1).
---
Posted in Report from Headquarters