Report from Headquarters
---
Year in Review: Education Programs Soar
Written by: developer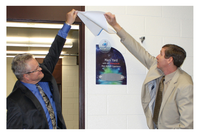 The following is part of a series of six Space Watch articles reporting on Space Foundation activities and accomplishments in 2010. You can read them all in this issue. To download a copy of the full report, click here.
The Space Foundation continues to expand and refine our nationally recognized standards-based education programs for teachers, students, parents and communities.
Many 2010 successes focused on the Space Foundation's education headquarters, the Space Foundation Discovery Institute, which opened last year in Colorado Springs. Developments included:
The Space Foundation's education programs continued to expand in both scope and geography in 2010. Highlights included:
Successful education partnerships with the Charles County (Md.) Public Schools; Colorado Springs School District 11, including the Jack Swigert Aerospace Academy; the Lyons Township Consortium of seven suburban Chicago school districts; Upward Bound; and Colorado State University-Pueblo
Rollout of a Space Across the Curriculum educator professional development course specifically for teachers of PreK-2nd grade students
Addition of 31 teachers from 10 states and Puerto Rico to the Space Foundation's Teacher Liaison program, growing the group for space education advocates to 321 active members, plus the launch of an online forum that keeps them connected and engaged; Lockheed Martin sponsored the program in 2010
Participation in major STEM education events including the inaugural USA Science & Engineering Festival in Washington, D.C., STEMapalooza in Denver, the Charles County Educational Exchange in Maryland and the Cool Science Festival in Colorado Springs
Special targeted education programs in conjunction with the Maui Economic Development Board in Hawaii, the Space Exploration Educators Conference in Houston and at the Space Foundation's annual National Space Symposium
Expansion of the number of universities that provide continuing education credits and/or graduate credits to teachers for Space Across the Curriculum courses; the growing list now includes Aurora (Ill.) University, CSU – Pueblo, Regis University and the College of Education at the University of Colorado at Colorado Springs (UCCS)
Pictured: Mark Clark (left) and Patrick Landry of Honeywell uncover the new sign at the entrance to the Honeywell Mars Robotic Experience at the Space Foundation Discovery Institute in Colorado Springs. To donate to Space Foundation education programs, contact: Margo Hatton, Manager – Development & Education Partnerships at [email protected].
This article is part of Space Watch: January 2011 (Volume: 10, Issue: 1).
---
Posted in Report from Headquarters