Report from Headquarters
---
Year in Review: New Generation Initiatives
Written by: developer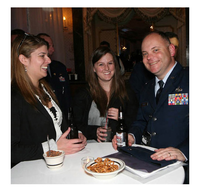 The following is part of a series of six Space Watch articles reporting on Space Foundation activities and accomplishments in 2010. You can read them all in this issue. To download a copy of the full report, click here.
The Space Foundation continues to expand our New Generation Initiatives, which provide professional development and education forums, programs, resources and opportunities for space professionals age 35 and under.
The New Generation Space Leaders Program at the 26th National Space Symposium involved more than 100 young-adult space professionals, who networked with the "who's who" in the space world and attended Symposium presentations and programs about trends, technologies and career development.
In 2010, New Generation Initiatives were expanded to include events at the Advanced Maui Optical and Space Surveillance Technologies (AMOS) conference, the International Astronautical Conference (IAC) in Prague and events in Washington, D.C.
Pictured: New Generation networking at the 26th National Space Symposium in 2010. 
This article is part of Space Watch: January 2011 (Volume: 10, Issue: 1).
---
Posted in Report from Headquarters