Report from Headquarters
---
Year in Review: the "Go to" Space Expert
Written by: developer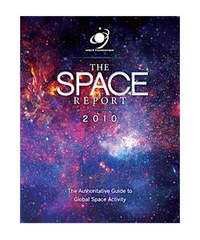 The following is part of a series of six Space Watch articles reporting on Space Foundation activities and accomplishments in 2010. You can read them all in this issue. To download a copy of the full report, click here.
Throughout 2010, the Space Foundation continued to serve as an expert on the industry for legislators, educators, industry, and the media.
The flagship information source, The Space Report 2010: The Authoritative Guide to Global Space Activity, was published in March and has since been quoted extensively in the media, on the Hill, in classrooms, and in presentations at major conferences. Print, CD, and PDF format copies may be purchased at www.TheSpaceReport.org. Plus, copies can be automatically donated to schools and libraries.
During the year, the Space Foundation published and presented White Papers on how space assets enable early warning for disease and pandemic prevention and space's role in faster, safer, and greener commercial aviation. We also hosted a number of media and industry briefings with space thought leaders and participated in the successful bid to change onerous space export regulations.
As the Administration and Congress worked through contentious and complex proposals on U.S. national space policy, the Space Foundation clarified the options through presentations, briefings and online publications, including a comparison of the new 2010 policy and the 2006 policy and a comparison of space-related legislation. Then, as the mid-term elections approached, the Space Foundation issued a guide to keeping track of potential changes in space-related committee and subcommittee assignments.
This article is part of Space Watch: January 2011 (Volume: 10, Issue: 1).
---
Posted in Report from Headquarters