Space Foundation Press Releases
---
27th National Space Symposium Hosts Local Students and Teachers from Across the Country
Written by: developer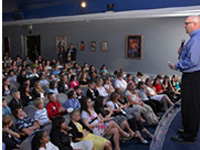 COLORADO SPRINGS, Colo. (Apr. 11, 2011) — This week the Space Foundation is hosting nearly 1,800 local students and 95 teachers from 18 states at a number of education activities at the 27th National Space Symposium at The Broadmoor Hotel in Colorado Springs, Colo. The programs include educator professional development, national recognition of an outstanding educator, a surprise teacher grant announcement, student tours and sessions including "Audience with an Astronaut" and "An Introduction to Chinese Culture and Space Activities."
The "An Introduction to Chinese Culture and Space Activities" session will give a group of 140 local students who are studying the Mandarin language insight into the Chinese space program as presented by a Chinese delegation attending the Symposium.
Teacher Professional Development
National Space Symposium education activities annually include a full-day workshop for Space Foundation Teacher Liaisons, a group of nationally recognized educators who serve as active links between the Space Foundation, NASA and their schools and school districts.
Now in its eighth year, the prestigious, nationally recognized Space Foundation Teacher Liaison program is for PreK-20 educators who inspire the next generation of students to pursue and excel in science, technology, engineering and math (STEM) by using space-related themes, programs and projects in the classroom.
Student Involvement
Local students are visiting the 27th National Space Symposium's Boeing Exhibit Center this week and participating in educational sessions. "Audience with an Astronaut" is co-sponsored by ADD STAFF and Maui Economic Development Board (MEDB), and gives students the opportunity to hear first-hand about the space travels of NASA astronauts, including:
Capt. Robert L. Curbeam, Jr., USN (Retired)
Col. Michael T. Good, USAF (Retired)
Richard J. Hieb 
William F. Readdy
The Alan Shepard Technology in Education Award
James E. Richmond, superintendent of Charles County Public Schools (CCPS) in Maryland, will be honored at the Symposium's opening ceremony by the Astronauts Memorial Foundation (AMF), NASA and the Space Foundation as the winner of the 2011 Alan Shepard Technology in Education Award.
Located 25 miles south of Washington, D.C., CCPS has been able, under Richmond's guidance, to take advantage of its proximity to the Naval Surface Warfare Center, Andrews Air Force Base and the Patuxent River Naval Base to develop compelling and real-life-based technology programs for students. In addition, CCPS has worked closely with the Space Foundation to bring space-related STEM programs to teachers and students. Richmond's Alan Shepard Award recognition is one of several award presentations being made at the opening ceremony, Monday night, April 11.
United Space Alliance Innovation in Education Grant
United Space Alliance, in partnership with the Space Foundation, is presenting a $5,000 classroom grant during the 27th National Space Symposium to one of the attending Teacher Liaisons. PreK-12 educators who were registered for the Symposium as of March 11, 2011, competed for the grant by creating innovative space-based classroom lessons and activities around the theme, "Human Space Travel in the Year 2020," and submitting a plan that outlined materials needed, estimated cost and learning objectives.
The winning teacher will be announced at the Symposium's Teacher Liaison Workshop, on April 12, at Penrose House, by Capt. Daniel Brandenstein, USN (Retired), chief operating officer, United Space Alliance, and former NASA astronaut.
Student Art Contest
New to the 27th National Space Symposium this year is a student art contest co-sponsored by ARES Corporation, Fisher Space Pen Co. and the Space Foundation. Students in pre-kindergarten through 12th grade were invited to submit original artwork depicting the theme, "Human Space Travel in the Year 2020," resulting in entries from more than 150 students in 13 states.
All winners will be recognized at a special ceremony on April 13 at the 27th National Space Symposium at The Broadmoor Hotel in Colorado Springs, Colo., where former NASA astronaut Capt. Robert L. Curbeam, Jr., USN (Retired) will announce grand prize winners selected from among the three first place winners for each age category.
Each winning artist receives a Fisher Space Pen, a ribbon and an invitation to attend the award presentation. Each grand prize winner will also receive an art kit from ARES Corporation. Winning entries will be displayed at the Symposium outside of the new ARES Education Auditorium in the Boeing Exhibit Center Lower Level.
About the 27th National Space Symposium
The Space Foundation's 27th National Space Symposium is the premier gathering of the global space community and is being held April 11-14 at The Broadmoor Hotel in Colorado Springs. Each year, as part of its ongoing education programs, the Space Foundation capitalizes on wealth space-related programming and exhibits to provide learning opportunities for teachers and students.
27th National Space Symposium Co-Sponsors
Symposium co-sponsors include: ADD STAFF; a.i. solutions; Analytical Graphics, Inc. (AGI); ARES Corporation; Arianespace; ATK; Ball Aerospace & Technologies Corp.; Blue Ridge Networks; The Boeing Company; Booz Allen Hamilton; Cisco Systems, Inc.; Euroconsult; Fisher Space Pen Co.; GMV; General Dynamics; IBM; ILA Berlin Air Show; Integral Systems; Intelsat General Corporation; International Academy of Astronautics (IAA); International Space University (ISU); Iridium; Lockheed Martin; Maui Economic Development Board (MEDB); Moog; Northrop Grumman; Paradigm; Pratt & Whitney Rocketdyne; QinetiQ; Raytheon; SAIC; SES World Skies; TheSI Corporation, Inc.; Space Generation Advisory Council (SGAC); SpaceSystems/Loral; SpaceX; Stellar Solutions; Swedish Space Corporation (SSC); United Launch Alliance; and United Space Alliance. Aviation Week; Defense Systems; and Space News International are official media partners.
About the Space Foundation
The Space Foundation is a global, nonprofit organization and the foremost advocate for all sectors of the space industry – civil, commercial, military and intelligence. Founded in 1983, the Space Foundation is a leader in space awareness activities, educational programs that bring space into the classroom and major industry events, including the National Space Symposium, all in support of its mission "to advance space-related endeavors to inspire, enable and propel humanity." An expert in all aspects of the global space industry, the Space Foundation publishes The Space Report: The Authoritative Guide to Global Space Activity and provides three indices that track daily performance of the space industry. Through its Space Certification and Space Technology Hall of Fame® programs, the Space Foundation recognizes space-based technologies and innovations that have been adapted to improve life on Earth. Headquartered in Colorado Springs, the Space Foundation conducts research and analysis and government affairs activities from its Washington, D.C., office and has field representatives in Houston, Texas, and Cape Canaveral, Fla. For more information, visit www.SpaceFoundation.org. Follow us on Twitter, Facebook and LinkedIn, and read about the latest space news and Space Foundation activities in Space Watch.
# # #
---
Posted in Space Foundation Press Releases