Space Foundation News
---
Opening Ceremony Launches Symposium
Written by: developer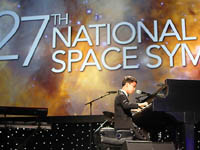 COLORADO SPRINGS, Colo. (Apr. 12, 2011) — The 27th National Space Symposium kicked off last night with a spectacular opening ceremony featuring inspiring entertainment and awards.
The event, co-sponsored by Northrop Grumman, included performances by 10-year-old pianist Ethan Bortnick, remarks by Space Foundation Chief Executive Officer Elliot Pulham and Northrop Grumman Corporate Host Gary W. Ervin, corporate vice president & president, Northrop Grumman Aerospace Systems, and presentation of prestigious Space Foundation Awards.
The honorees included:
Charles County Public Schools (Maryland) Superintendent James E. Richmond, who was presented the Alan Shepard Technology in Education Award, which is awarded annually by the Astronauts Memorial Foundation (AMF), the National Aeronautics and Space Administration (NASA) and the Space Foundation in recognition of outstanding contributions to technology education by K-12 educators or district-level education personnel. The superintendent of a district with nearly 27,000 K-12 students, Richmond has launched multiple programs to help his students excel in science, technology, engineering and mathematics (STEM).
SpaceX , which won a Space Achievement Award for becoming the first commercial company to re-enter a spacecraft from low-Earth orbit. Chief Executive Officer and Chief Technology Officer Elon Musk accepted.
Télécoms Sans Frontières (TSF), which was recognized with a Space Achievement Award for its unique use of space to aid communications and save lives during natural disasters and emergencies. U.S. TSF Representative Paul Margie accepted.
Three space journalists, Marcia Dunn of The Associated Press, Jay Barbree of NBC News and William Harwood of CBS News, who were honored with the Douglas S. Morrow Public Outreach Award for their long-time, insightful coverage of the space program.
The opening ceremony was followed by the official opening of the Boeing Exhibit Center, which features four display areas this year. The opening reception was co-sponsored by The SI Organization.
---
Posted in Space Foundation News