Report from Headquarters
---
Space has had a Big Impact on Many Lives
Written by: developer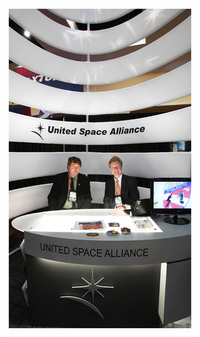 For the past two months, Space Watch has published quotes on how space has affected real people's lives. Here are a some additional comments:
"(I have used) used my creative talents to work within the aerospace industry communicating... the need... for space exploration to local, national and global arenas."
"It opens up possibilities of more life out there than we expected."
"I grew up during the Space Race. Experiencing this awesome time in U.S. history motivated me to become a science teacher so I could share my love of space, rockets and science with children. Ultimately, my aerospace teaching career with model rockets has awarded me with national aerospace education awards."
"I idolized astronauts as a kid; the very idea of space travel was awesome to me."
"Since I was a child, I've been fascinated about space... today I'm a better user of this planet!"
"It has inspired me to become an excited life-long learner. Seeing how our space program problem-solves is amazing. I have passed that enthusiasm onto my own children (all involved in science) and to my students."
"It constantly gives me something to dream about, to hope for."
"It gave me a life goal: enable humanity to become a space-faring civilization."
"It has inspired me to learn more about space so that I can teach more to my students. It has also inspired me to look for ways that I can be a part of a larger space organization (NASA, Space Foundation, Challenger Center...)."
"As a life-long hearing-impaired person who depends on a hearing aid for my link to the hearing world, I went from... a metal box in my pocket with glass hearing piece to... an all plastic digital aid that hides in the ear. I went from an aid that amplified EVERYTHING to today an aid that is selective in what I hear. And as a middle school science teacher (40 years and still teaching), believe me that is a BLESSING!! I have come from watching Sputnik going over my house to watching us launching to the Moon, Mars and beyond. I am very, very appreciative of the space program. In fact, I love it!!!"
"It inspired me, my brother and one of my children to become engineers."
To read the quotes in the November 2011, click here. For December, click here.
Space has inspired a many to work in the industry. Pictured: United Space Alliance employees at the 27th National Space Symposium.
This article is part of Space Watch: January 2012 (Volume: 11, Issue: 1).
---
Posted in Report from Headquarters