Report from Headquarters
---
Pulham Will Chair Panel at ISU Symposium
Written by: developer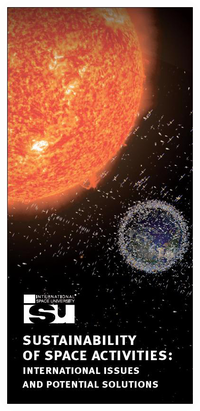 The Space Foundation will have an active role in the 16th ISU Annual International Symposium, coming up Feb. 21-23 in Strasbourg, France. The Space Foundation is a co-sponsor of the event and CEO Elliot Pulham will chair the Wednesday panel discussion on space debris.
According to International Space University (ISU), the Symposium "will address the risks faced by spacecraft and crew due to various natural and human generated threats. Looking be­yond the current situation we ask what can be done to mitigate the threats in order to assure long-term sustainability of space activities particularly through increased co-operation between nations."
To see more about the 16th ISU Annual International Symposium, click here.
About International Space University
The International Space University (ISU) provides graduate-level training to the future leaders of the emerging global space community at its Central Campus in Strasbourg, France, and at locations around the world. In its two-month Space Studies Program and one-year Masters Program, ISU offers students a core curriculum covering all disciplines related to space programs and enterprises, space science, space engineering, systems engineering, space policy and law, business and management and space and society. Both programs also involve an intense student research team project providing international graduate students and young space professionals the opportunity to solve complex problems by working together in an intercultural environment.
Since its founding in 1987, ISU has graduated more than 3,000 students from 100 countries. Together with hundreds of ISU faculty and lecturers from around the world, ISU alumni comprise an extremely effective network of space professionals and leaders that actively facilitates individual career growth, professional activities and international space cooperation.
This article is part of Space Watch: January 2012 (Volume: 11, Issue: 1).
---
Posted in Report from Headquarters