Space Foundation News
---
A Meeting of the Mega Minds at the 28th National Space Symposium
Written by: developer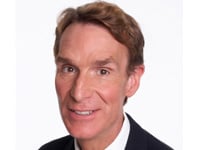 COLORADO SPRINGS, Colo. (Jan. 9, 2012) — The Space Foundation's 28th National Space Symposium will bring together the leading decision-makers from the global space community and, for one panel, some of the greatest scientific minds in the U.S.
Moderated by Bill Nye the Science Guy®, who is both a popular media figure and a legitimate scientist, the last panel discussion of the April 16-19 Symposium will delve into deep scientific issues, accomplishments and opportunities inherent in space exploration.
Confirmed for the "'Mega Minds' — Leading Scientists Discuss the Future of Space Exploration," panel are:
Amy Mainzer, Ph.D., WISE Deputy Project Scientist, Jet Propulsion Laboratory 
Carolyn Porco, Ph.D., senior research scientist, Space Science Institute
Lisa Randall, Ph.D., Frank B. Baird, Jr., Professor of Science, Harvard University 
Steven W. Squyres, Ph.D., Goldwin Smith Professor of Astronomy, Cornell University
About the Speakers
NYE is a scientist, engineer, comedian, author and inventor. He is the host of two television series: The 100 Greatest Discoveries airs on the Science Channel: and The Eyes of Nye on PBS stations across the country. Nye is also a professor for the Frank H. T. Rhodes Visiting Professorship, often teaching at Cornell University. He became well known for his PBS program Bill Nye the Science Guy. In between creating and hosting shows, he has written five children's books about science. Prior to comedy and television, Nye was an engineer at Boeing working on flight control systems and he designed a hydraulic pressure resonance suppressor that is still flying on Boeing 747s today. Nye earned a Bachelor of Science degree in mechanical engineering from Cornell University.
Mainzer is an astronomer, specializing in astrophysical instrumentation and infrared astronomy. She is deputy project scientist for the Wide-field Infrared Survey Explorer and principal investigator for the NEOWISE project to study minor planets. She has appeared in the History Channel series The Universe and in the documentary featurette Stellar Cartography: On Earth included on the Star Trek Generations home video release. Mainzer earned a Bachelor of Science degree in physics from Stanford University; a Master of Science degree in astronomy from California Institute of Technology; and a doctorate in astronomy from the University of California, Los Angeles.
Porco is a planetary scientist known for her exploration of the outer solar system and imaging work on the 1980s Voyager missions to Jupiter, Saturn, Uranus and Neptune. An expert on planetary rings and the Saturnian moon, Enceladus, she leads the imaging science team on the Cassini mission orbiting Saturn and is an imaging scientist on the New Horizons mission launched to Pluto in 2006. Porco's doctorate is from the California Institute of Technology in the Division of Geological and Planetary Sciences.
Randall is a Frank B. Baird, Jr., Professor of Science at Harvard University, where she studies theoretical particle physics and cosmology. Her research connects theoretical insights to puzzles in our current understanding of the properties and interactions of matter. Randall's studies have made her among the most-cited and influential theoretical physicists. She has also had a public presence through her writing, lectures and radio and TV appearances. Her book Warped Passages: Unraveling the Mysteries of the Universe's Hidden Dimensions was included in The New York Times 100 notable books of 2005. Randall earned her Ph.D. from Harvard University and held professorships at MIT and Princeton University before returning to Harvard in 2001.
Squyres is the Goldwin Smith Professor of Astronomy at Cornell University and the principal scientific investigator for NASA's Mars Exploration Rover project. His research focuses on the robotic exploration of planetary surfaces, the history of water on Mars, geophysics and tectonics of icy satellites, tectonics of Venus, planetary gamma-ray and x-ray spectroscopy. He is a co-investigator on the Mars Express mission and on the Mars Reconnaissance Orbiter's high-resolution imaging science experiment. He is a member of the gamma-ray spectrometer flight investigation team for the Mars Odyssey mission and a member of the imaging team for the Cassini mission to Saturn. Squyres earned his Ph.D. is astronomy from Cornell. He spent five years as a postdoctoral associate and research scientist at NASA Ames Research Center before returning to Cornell as a faculty member.
About the 28th National Space Symposium
The premier gathering of space professionals in the world, the 28th National Space Symposium is slated for April 16-19 at The Broadmoor Hotel in Colorado Springs. The event includes more than 100 speakers from every facet of the global space community, the expansive Ball Aerospace Exhibit Center featuring a brand new Pavilion, a fabulous opening ceremony featuring the Colorado Springs Philharmonic, presentation of prestigious Space Foundation awards, the popular Space Technology Hall of Fame® dinner and special programs for educators, students and young space professionals.
The Symposium is offered in conjunction Cyber 1.2, a separate Space Foundation event focusing on cyberspace policy issues affecting industry and government, which will be held during the day on April 16 immediately preceding the opening ceremony of the 28th National Space Symposium.
Secure online registration for both the Symposium and for Cyber 1.2 can be found at www.NationalSpaceSymposium.org, which includes a live chat tab for customer service questions.
28th National Space Symposium and Cyber 1.2 Co-Sponsors
Confirmed co-sponsors include: Analytical Graphics, Inc. (AGI); ARES Corporation; Arianespace, Inc.; ATK; Ball Aerospace & Technologies Corp.; Blue Ridge Networks; The Boeing Company; Booz Allen Hamilton; Fluor; GMV; General Dynamics; International Space University (ISU); Lockheed Martin; Maui Economic Development Board (MEDB); Moog; Northrop Grumman; Pratt & Whitney Rocketdyne; Raytheon; SES Government Solutions; Sherman & Howard; Space Generation Advisory Council; Space Systems Loral; SpaceX; Stellar Solutions. Aviation Week and Space News are the official media partners. Sponsorship information can be found at: www.NationalSpaceSymposium.org.
About the Space Foundation
The foremost advocate for the space industry and an expert in all aspects of space, the Space Foundation is a global, nonprofit leader in space awareness,educational programs that bring space into the classroom and major industry events, including the National Space Symposium, all in support of its mission "to advance space-related endeavors to inspire, enable and propel humanity." The Space Foundation publishes The Space Report: The Authoritative Guide to Global Space Activity and provides three indexes that track daily performance of the space industry. Through its Space Certification and Space Technology Hall of Fame® programs, the Space Foundation recognizes space-based technologies and innovations that have been adapted to improve life on Earth. Founded in 1983 and headquartered in Colorado Springs, the Space Foundation conducts research and analysis and government affairs activities from its Washington, D.C., office and has a field office in Houston, Texas. For more information, visit www.SpaceFoundation.org. Follow us on Facebook, LinkedIn and Twitter, and read about the latest space news and Space Foundation activities in Space Watch.
Pictured: Bill Nye the Science Guy®
---
Posted in Space Foundation News