Space Foundation Press Releases
---
Former NASA Astronaut Dr. Leroy Chiao Joins Space Foundation
Written by: developer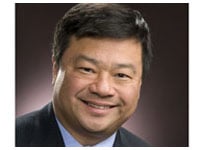 COLORADO SPRINGS, Colo. (Jan. 19, 2012) — The Space Foundation welcomes an important addition to its leadership team; former NASA astronaut Leroy Chiao, Ph.D., will serve in the newly-created position of Space Foundation Special Advisor – Human Spaceflight. Chiao flew on three Space Shuttle flights, a Russian Soyuz flight and was the commander of International Space Station (ISS) Expedition 10, where he lived onboard the ISS from Oct. 13, 2004, to April 24, 2005.
"Whether he's addressing rocket scientists, reporters or schoolchildren, Dr. Chiao is an extraordinary spokesperson on space science and human spaceflight," said Space Foundation CEO Elliot Pulham. "Plus, his extensive work with NASA and the Japanese, Russian and European space agencies makes him an incredible asset to the Space Foundation's global space endeavors."
Chiao, who is based in Houston, will begin his work with the Space Foundation this month and will participate significantly in the annual National Space Symposium, to be presented by the Space Foundation, April 16-19 at The Broadmoor Hotel in Colorado Springs, Colo.
About Chiao
Educated as an engineer, Chiao works in business and academia. He is also a consultant, speaker and former NASA astronaut. Chiao grew up in Danville, Calif., and earned a Doctor of Philosophy degree in chemical engineering from the University of California at Santa Barbara. A native English speaker, he also speaks Mandarin Chinese and Russian.
His Space Shuttle missions include:
STS-92 Discovery, Oct. 11- 24, 2000
STS-72 Endeavour, Jan. 11 – 20, 1996
STS-65 Columbia, July 8 – 23, 1994
In addition, he flew as Flight Engineer 1 aboard Soyuz TMA-5 to the ISS, where he served as commander and NASA science officer during Expedition 10. Chiao received the NASA Distinguished Service Medal in 2004. After a 15-year career with NASA, he left in 2005 to work and consult on a number of projects. In 2009, he served as a member of the Review of United States Human Space Flight Plans Committee, and currently serves on the NASA Advisory Council. He holds appointments at Rice University and the Baylor College of Medicine, and is involved in educational programs. An instrument-rated pilot, Chiao has logged over 2,900 flight hours in a variety of aircraft. He enjoys flying his Grumman Tiger airplane, and downhill skiing.
About the Space Foundation
The foremost advocate for the space industry and an expert in all aspects of space, the Space Foundation is a global, nonprofit leader in space awareness, educational programs that bring space into the classroom and major industry events, including the National Space Symposium, all in support of its mission "to advance space-related endeavors to inspire, enable and propel humanity." The Space Foundation publishes The Space Report: The Authoritative Guide to Global Space Activity and provides three indexes that track daily performance of the space industry. Through its Space Certification and Space Technology Hall of Fame® programs, the Space Foundation recognizes space-based technologies and innovations that have been adapted to improve life on Earth. Founded in 1983 and headquartered in Colorado Springs, the Space Foundation conducts research and analysis and government affairs activities from its Washington, D.C., office and has a field office in Houston, Texas. For more information, visit www.SpaceFoundation.org. Follow us on Facebook, LinkedIn and Twitter, and read about the latest space news and Space Foundation activities in Space Watch.
---
Posted in Space Foundation Press Releases