Education
---
Art Contest Judging is this Month
Written by: developer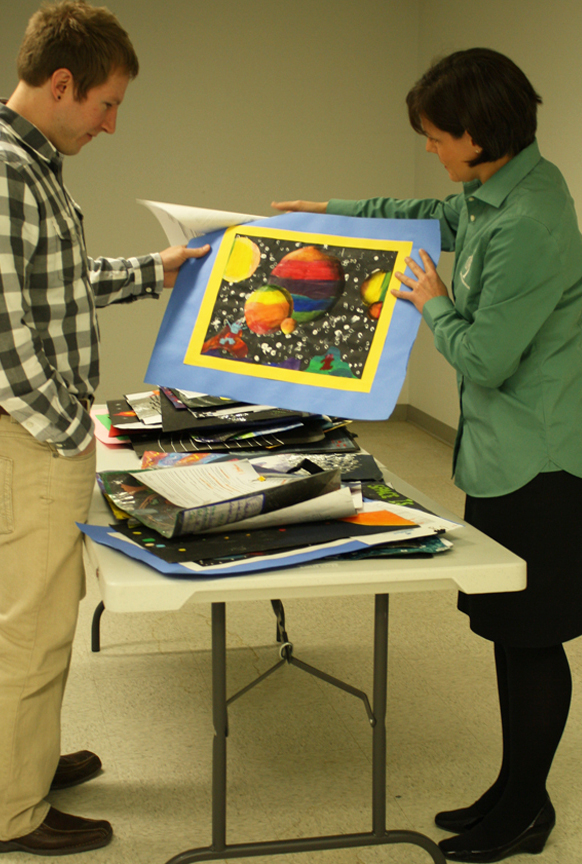 The Space Foundation Art Contest is well underway, with more than 1,500 entries from around the world and plans for an exciting announcement ceremony on April 16 at the 28th National Space Symposium in Colorado Springs, Colo. For the second year, the Art Contest is co-sponsored by ARES Corp.
Entries will be judged by a distinguished panel of art experts this month and winners will be notified by early April. Themed "Space is Infinite – Explore!, the contest recognizes art in three categories – drawing, painting and multimedia – for four different grade categories:
PreK-2nd
3rd-5th
6th-8th
9th-12th
The entries are beng pre-screened by the Space Foundation artwork committee, which comprises professional marketers and graphic designers. Then, the judges will select first, second and third place winners in each art category in each age category. From that group of 36, the panel will select a single grand prize winner in each age category – for a total of four grand prize winners. New this year for the Space Foundation Student Art Contest, the Space Foundation will present one Achievement Award.
The judges are:
Joy Armstrong, assistant curator, Fine Arts Center, Colorado Springs
Lourn Eidal, assistant art director, Crystal Peak Design, Colorado Springs
Sam Gappmayer, president and chief executive officer, Fine Arts Center, Colorado Springs
Laurie A. Longberry, art instructor, Monart Drawing and Art Studio, Peyton, Colo.
Hans Wolfe, visiting artist coordinator and Art Department chair, The Colorado Springs School, Colorado Springs
First-, second- and third-place artists will be invited to the awards ceremony on April 16 at the 28th National Space Symposium. First place and grand prize winners and the Space Foundation Achievement Award winner will be announced at the ceremony, which will feature former NASA astronauts Dr. Leroy Chiao, who also serves as the Space Foundation's special advisor – human space flight, and CAPT Michael McCulley, USN, Ret.
Winning artwork will be displayed at the Symposium, and at other venues throughout the year. It will also be posted on Space Foundation websites for the entire year. Watch Space Watch and www.SpaceFoundation.org for announcement of the winners.

Pictured: Space Foundation Graphic Designers Deke Butler and Amy Mirocha prepare Art Contest entries for judging.
This article is part of Space Watch: March 2012 (Volume: 11, Issue: 3).
---
Posted in Education