Space Foundation Press Releases
---
Space Technology Hall of Fame® to Induct Flexible Aerogel and German Fire Prevention Technologies
Written by: developer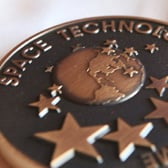 COLORADO SPRINGS, Colo. (March 16, 2012) — Two diverse technologies that have origins in space are being inducted into the Space Foundation's Space Technology Hall of Fame® next month. Events honoring the 2012 honorees, which include the first international inductee, will be held on April 19 at The Broadmoor Hotel in Colorado Springs, Colo.
Low-density, light-weight flexible aerogel insulating material and a high-resolution optical sensing system called FireWatch that detects forest fires before they can cause serious environmental damage are the two technologies being inducted.
Both technologies were originally developed for space applications and have now been modified for products and services used on Earth. Aerogels were developed for cryogenic applications in rocket engine test stands, launch vehicles and life support systems. Optical detections systems were developed for analyzing comet gas and particle emissions.
The Space Foundation established the Space Technology Hall of Fame in 1988 to increase public awareness of the benefits that result from space exploration programs and to encourage further innovation.
About Flexible Aerogel
Flexible aerogels were originally developed to serve as a barrier to the extreme temperatures that occur during rocket launches and that affect spacecraft as they are exposed to both high heat and severe cold. Because the initial silica aerogels were fragile and expensive, NASA contracted with James Fesmire, senior principal investigator of the Cryogenics Test Laboratory at Kennedy Space Center, and the startup company Aspen Systems Inc. to produce affordable and easy-to-use aerogel composite blankets for space applications.
Aspen Aerogels continued its development of the product to produce three variations – Cryogel, Pyrogel and Spaceloft – that are now used in industrial, construction, refrigeration, automotive, medical and commercial applications. Examples include:
Insoles for mountain climbers and endurance runners

A wrap that helps sufferers of Raynaud's disease maintain blood temperature and flow in extremities where constricted blood vessels cause pain and discoloration

Home insulation that, according to Department of Energy, when applied to wall studs in a quarter-inch-thick strip, can increase the wall's insulation factor by 30 percent
The leading provider in the United States, Aspen Aerogels produces nearly 20 million square feet of the material per year for extreme environments on Earth and in space.
About FireWatch
DLR and the private firm IQ Wireless took technology developed by DLR to analyze gases and particles in space and created a terrestrial detection tool known as FireWatch that uses high-resolution optical sensors installed on towers or masts that connect to a remote central office to monitor forests and detect potential fires.
With sensors that can distinguish between more than 16,000 scales of grey, the system can spot developing fires in virtually any weather, day or night, resulting in a detection rate of more than 90 percent. FireWatch image processing software analyzes the motion, structure and brightness of smoke plumes and automatically alerts monitoring personnel within six minutes during daylight and within 12 minutes during the night. Monitoring personnel receive target images and coordinates to determine and alert the appropriate response resources.
Using networks of high-resolution cameras that can each monitor hundreds of square miles of forest, FireWatch now protects more than seven million acres of forests around the world from Europe and Australia to Mexico.
Individual and Organization Honors
In addition to honoring the technologies, the Space Technology Hall of Fame is also recognizing individuals and organizations for their roles in developing and adapting the technologies for commercial use.
Innovating Organizations for flexible aerogels:
Aspen Aerogels, Inc., Northborough, Mass.

Aspen Systems, Inc., Marlborough, Mass.

NASA Kennedy Space Center, Fla. 
Innovating Individuals for flexible aerogels:
James E. Fesmire, senior principal investigator, NASA Kennedy Space Center
Dr. George L. Gould, vice president – research and development, Aspen Aerogels, Inc.
Dr. Kang P. Lee, president & chief executive officer, Aspen Systems, Inc.
Dr. Jae Ryu, director – advanced technology, Agiltron, Inc.
Innovating Organizations for FireWatch:
The German Aerospace Center (DLR), Cologne, Germany

IQ Wireless, GmbH, Berlin, Germany
Innovating Individuals for FireWatch:
Thomas Behnke, development and system engineer, Planetary Sensor Systems, DLR, Institute of Planetary Research
Prof. Dr. Herbert Jahn, senior scientist, Department of Optical Information Systems, DLR, Institute of Robotics and Mechatronics

Dr. Joerg Knollenberg

,

scientific staff member, DLR Institute of Planetary Research

Dr. Ekkehard Kuehrt, Asteroids and Comets department head, DLR Institute of Planetary Research
Three Events to Honor Inductees
Three separate events on April 19 will honor the various organizations and individuals who successfully commercialized the two space technologies, including:
The Private Induction Ceremony, sponsored by Cisco Systems, Inc., every year since 2004

The Space Technology Hall of Fame reception, sponsored by DLR/Astrium GmbH – Space Technology

The Space Technology Hall of Fame Dinner, sponsored by SpaceX, and featuring Lon Levin, president of SkySevenVentures, and Mark Stevenson, innovation expert and author of An Optimist's Tour of the Future
All are part of the Space Foundation's 28th National Space Symposium, April 16-19 at The Broadmoor Hotel.
About Nomination and Judging
Each year, the Space Technology Hall of Fame solicits nominations from the industry and the public. After a thorough review process that establishes whether the technologies did, indeed, have their origins in space exploration and/or research, the qualifying technologies are reviewed and ranked by a distinguished panel of judges that included:
Robert Appleton, executive director, H.R. MacMillan Space Centre, Vancouver, B.C., Canada
Gen. Duane W. Deal, USAF, Ret., senior vice president for national security programs, SGT, Inc., Greenbelt, Md.
J. Walter Faulconer, president, Strategic Space Solutions, LLC, Glenelg, Md.
Richard A. Garriott, vice-chairman of Space Adventures, Vienna, Va.
Amitabha Ghosh, Ph.D., planetary scientist for the NASA Mars Exploration Rover Mission, Washington, D.C.
Rachel Stephen-Smith, minister-counsellor for innovation, industry, science and research, Embassy of Australia, Washington, D.C.
Norimitsu Kamimori, director, Japan Aerospace Exploration Agency (JAXA), Washington, D.C.
"The judges had many high-caliber nominations to consider for 2012, some of which were repeat nominations from previous years," said Space Foundation Director – Space Awareness Kevin Cook. "These inductees are extraordinary examples of how space research and development can, eventually, make our lives on Earth safer, more comfortable and more environmentally sustainable.
"The induction of FireWatch underscores the increasing globalization of space," Cook continued. "As our first purely international honoree, this technology shows how other nations are developing and deploying space technologies."
Additional information about the Space Technology Hall of Fame®, including a complete list of inducted technologies, is available at www.SpaceTechHallofFame.org. 
Register to attend the 28th National Space Symposium at http://www.nationalspacesymposium.org/register.

Cyber 1.2 and 28th National Space Symposium Co-Sponsors
Confirmed co-sponsors include: a.i. solutions; AIAA; Analytical Graphics, Inc. (AGI); ARES Corporation; Arianespace, Inc.; ATK; Ball Aerospace & Technologies Corp.; Bechtel; Blue Ridge Networks; The Boeing Company; Booz Allen Hamilton; Cisco Systems, Inc.; Colorado Space Business Roundtable; Colorado Space Coalition; Defense Daily's Cyber Security Summit; DLR/Astrium GmbH – Space Technology; Dynetics; EADS North America; Euroconsult; Fisher Space Pen; Fluor; GMV USA; General Dynamics; Global VSAT Forum; Government Executive; ISPCS; ITT Exelis; Intelsat General Corporation; International Space University (ISU); Lockheed Martin; Maui Economic Development Board (MEDB); Moog; National Space Grant College and Fellowship Program; Northrop Grumman; Paradigm Secure Communications; Pratt & Whitney Rocketdyne; Raytheon; Robert A. and Virginia Heinlein Prize Trust; SAIC; SES Government Solutions; Sherman & Howard L.L.C.; Space Generation Advisory Council; Space Systems/Loral; SpaceRef; SpaceX; Spincraft; Stellar Solutions; The Greater Colorado Springs Chamber and EDC; United Launch Alliance (ULA). Official media partners include Aviation Week, SatNews Publishers and Space News. Sponsorship information can be found at: www.NationalSpaceSymposium.org.
About the Space Foundation
The foremost advocate for the space industry and an expert in all aspects of space, the Space Foundation is a global, nonprofit leader in space awareness, educational programs that bring space into the classroom and major industry events, including the National Space Symposium, all in support of its mission "to advance space-related endeavors to inspire, enable and propel humanity." The Space Foundation publishes The Space Report: The Authoritative Guide to Global Space Activity and provides three indexes that track daily performance of the space industry. Through its Space Certification and Space Technology Hall of Fame® programs, the Space Foundation recognizes space-based technologies and innovations that have been adapted to improve life on Earth. Founded in 1983 and headquartered in Colorado Springs, the Space Foundation conducts research and analysis and government affairs activities from its Washington, D.C., office and has a field office in Houston, Texas. For more information, visit www.SpaceFoundation.org. Follow us on Facebook, LinkedIn and Twitter, and read about the latest space news and Space Foundation activities in Space Watch.
---
Posted in Space Foundation Press Releases