Space Foundation News
---
New Generation Panel Looks at Risk, Opportunities
Written by: developer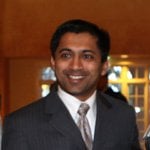 New Generation Space Leaders participated in a wide range of special programs and general attendee events at the 28th National Space Symposium. The first targeted workshop, Taking Risk and Creating Opportunities, held on April 17, was moderated by Space Foundation Government Affairs Associate Tommy Sanford and included:
Dr. Lance Bush, president and chief executive officer, Challenger Center for Space Science Education 
Chirag Parikh, director – space policy, White House National Security Staff (pictured)
Joel Scotkin, chief executive officer , Masten Space Systems 
Mark Valerio, vice president and general manager – surveillance and navigation systems line of business , Lockheed Martin Space Systems Company 
The panel explored the notion that even though federal budgets are likely to decrease over the next several years, the space industry cannot become risk adverse. With that in mind, these senior space leaders from industry and government shared their personal stories of taking risk.
The panel said that the history of the national security space program is filled with examples of failed policies providing an opportunity to create new space technologies and capabilities. They recommended that young professionals take hard jobs because they can be very rewarding and lead to future opportunities.
The Space Foundation created the New Generation Space Leaders Program, part of our New Generation Initiatives,  in 2008 to meet workforce challenges head-on. The program provides exposure to high-level discussions and opportunities to network with the top executives at the National Space Symposium, the industry's premier event, providing insight and knowledge they might otherwise miss.
---
Posted in Space Foundation News