Space Foundation News
---
Schwartz Talks About Budget, Industry Interaction
Written by: developer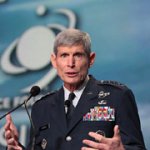 Speaking at the 28th National Space Symposium on April 19, Gen. Norton A. Schwartz, USAF, chief of staff, United States Air Force, talked about the importance of investing in space assets. "Even with extraordinary budget pressures, we are protecting and, in some cases, increasing investments in our top acquisition priorities, including space systems critical to joint warfighting requirements," he said, adding that space acquisitions represent 21 percent of Air Force investment spending, and include four of the ten largest procurement programs: Space-Based Infrared, Global Positioning System-III, and Advanced Extremely-High Frequency systems and the Evolved Expendable Launch Vehicle.
Commenting that the space domain is increasingly congested, contested and competitive, Schwartz said that the Air Force must enhance efforts to sustain space operations over the longer term, including overcoming challenges such as the need for more effective management of the frequency spectrum.
He also referenced the challenge of debris management, both monitoring current debris and curtailing future debris creation. He said that the U.S. has adopted standards that are more restrictive than the U.N. Space Debris Mitigation Guidelines and that he anticipates toward the end of 2012 the first increment of the new JSPOC Mission System, which will enhance processing of 155 million sensor observations and tracking of approximately 22,000 manmade objects in orbit.
From a military perspective, Schwartz said, mission success depends on commitment, innovation and creativity from all quarters of industry and government. "Tapping into talent wherever it might reside - from the large aerospace firms to small businesses - is especially important," he said.
He spoke at length about leveraging the small business community to provide timely solutions, adding that that large firms have the organizational setup and wherewithal to fulfill other, equally critical, larger-scale requirements. "We need to expand the dialogue when we talk about the health of our industrial base," he said. "Although there are benefits to directly dealing with one prime contractor, what is the optimal balance, in terms of costs and potential benefits, between entering into bundled contracts with major aerospace firms only, and perhaps forging more regular interactions with smaller, lower-tier suppliers of components and services?"
Schwartz said that government and industry efforts must be unified in relentlessly keeping costs down by:
designing affordability into new weapon systems programs
structuring more restraint into contracts
stabilizing requirements and matching ambition with actual operational need
balancing caution and discipline with assuming reasonable and justifiable risk in transitioning appropriately matured technologies to applied research and development
keeping schedules on track
"While the government must continue to maintain reliable funding streams and avoid requirements creep," he said, "industry must continue to deliver capabilities on cost and on time to America's warfighters."
See the full transcript here. See photos here. See video here.
---
Posted in Space Foundation News