Space Foundation News
---
Tyson Talks with Rocky Mountain PBS About the Inspiration of Space and Killer Asteroid
Written by: developer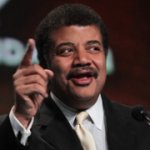 During the Space Foundation's 28th National Space Symposium last month in Colorado Springs, Colo., Symposium Keynote Speaker Dr. Neil deGrasse Tyson sat down with Rocky Mountain PBS for two different interviews for the program Colorado State of Mind.
In one interview, the well-known astrophysicist, director of New York's Hayden Planetarium, bestselling author and one of the space industry's foremost spokespersons, talked about the National Space Symposium, The Space Report, the space economy, NASA funding, inspiration, education and the future of space exploration. View the video here. In the other, he talks about the "killer asteroid" that is headed towards Earth - and what we can do to prevent a big bang. View this video here.
Hosted by Cynthia Hessin, Colorado State of Mind, explores local, regional, national and international topics of interest to Coloradans.
---
Posted in Space Foundation News