Space Foundation News
---
Space Foundation Student Art Contest is on Display
Written by: developer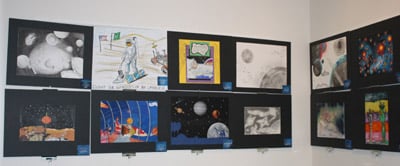 Winning artwork from the Space Foundation 2012 Student Art Contest is now on display at three Pikes Peak Library District locations through the month of June. The winning artwork can be seen at Old Colorado City and Sand Creek Libraries in Colorado Springs, and at High Prairie Library in Falcon, Colo.
Each year, the Space Foundation invites students from around the world in pre-kindergarten through 12th grade to submit original artwork in three categories – painting, drawing and multimedia – depicting a specific space theme. The art is judged by a panel of art experts and the winners receive prizes and recognition by the Space Foundation.
The 2012 contest was co-sponsored by ARES Corporation and Fisher Space Pen and the theme was "Space is Infinite – Explore!" See the winning artwork and the award video at: www.spacefoundation.org/education/student-art-contest.
Pictured: Some of the Space Foundation 2012 Student Art Contest winning artwork now on display at Sand Creek Library
---
Posted in Space Foundation News