Space Foundation Press Releases
---
Tickets Now on Sale for The Space Foundation Presents a 30th Anniversary Salute to Air Force Space Command
Written by: developer
NOTE:
The Washington, D.C., event is now sold out
Premium tables for the Colorado Springs event are sold out, but regular tables and individual tickets are still available 
COLORADO SPRINGS, COLO. (July 9, 2012) - Air Force supporters -- military and civilian alike -- can now purchase tickets for The Space Foundation Presents a 30th Anniversary Salute to Air Force Space Command, which will be held on Friday, Sept. 14, at The Broadmoor Hotel in Colorado Springs, Colo. Air Force Space Command (AFSPC) is celebrating its 30th anniversary, which officially occurs on Sept. 1, throughout the month of September. The Space Foundation Salute is the major official public event for the Colorado Springs community.
Program to Feature Distinguished Speaker, Awards
The event, which begins with a reception at 6:00 p.m., includes dinner, awards presentations and remarks by former Air Force Space Command Commander Gen. Kevin P. Chilton, USAF, Ret.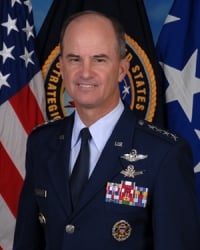 About Chilton
Chilton retired from the U.S. Air Force in 2011 after a distinguished 34-year career that included commanding at the wing, numbered air force, major command and unified combatant command levels. He served as commander of U.S. Strategic Command and of Air Force Space Command and spent 11 years with NASA, where he piloted two Space Shuttle missions and served as commander of STS-76. Chilton is a distinguished graduate of the U.S. Air Force Academy, where he earned a bachelor's degree in engineering science. He holds a Master of Science degree in mechanical engineering from Columbia University, New York, N.Y., where he was a Guggenheim Fellow. Chilton logged over 704 hours in space and has more than 5,000 hours flying on eight different types of aircraft/spacecraft, including the Space Shuttle.
Chilton will be introduced by current AFSPC Commander Gen. William L. Shelton, USAF. Space Foundation Chief Executive Officer Elliot Pulham will serve as master of ceremonies.
About the Awards
Three major awards, all of which have historically been presented during other local events, will be presented during the gathering:
The National Defense Industrial Association (NDIA) Rocky Mountain Chapter's General James V. Hartinger Award, which is presented annually for significant contribution to the military space mission of the United States. Hartinger was AFSPC's first commander.
Air Force Association (AFA) Lance P. Sijan Chapter's General Jerome F. O'Malley Distinguished Space Leadership Award, which recognizes the contributions of leaders in achieving O'Malley's vision of "providing an intensified space focus and reorienting Air Force philosophy toward an operational approach by advocating the operational use of space systems at the highest levels of the Air Force."
Induction of winners of the Air Force Space and Missile Pioneers Award, which recognizes individuals who have played a significant role in the history of Air Force space and missile programs.
Tables and Individual Tickets Available Now
The Space Foundation Presents a 30th Anniversary Salute to Air Force Space Command is a community event open to military and civilian alike. Two levels of tables -- both of which provide optimum seating and help underwrite the cost of tickets for junior-level military guests who otherwise might not be able to attend -- are available. Premium tables located in the first three rows are $3,000 each and standard tables are $2,000 each. Each table has six seats for the purchasing organization and four seats for military/government guests. Event attire is business for civilian attendees and service dress/class A uniform for military attendees.
Regular tickets are $110 and tickets for active military are priced based upon rank:
1-E4 -- Cadets/GS Equivalent: $25
E5-E6/GS Equivalent: $35
E7-E9/GS Equivalent: $50
02-03/GS Equivalent: $55
04005/GS Equivalent: $65
06 and Above/GS Equivalent: $75


About the Space Foundation
The foremost advocate for all sectors of the space industry and an expert in all aspects of space, the Space Foundation is a global, nonprofit leader in space awareness activities, educational programs that bring space into the classroom and major industry events, including the National Space Symposium, all in support of its mission "to advance space-related endeavors to inspire, enable and propel humanity." The Space Foundation publishes The Space Report: The Authoritative Guide to Global Space Activity and provides three indexes that track daily performance of the space industry. Through its Space Certification and Space Technology Hall of Fame® programs, the Space Foundation recognizes space-based technologies and innovations that have been adapted to improve life on Earth. Founded in 1983 and headquartered in Colorado Springs, the Space Foundation conducts research and analysis and government affairs activities from its Washington, D.C., office and has a field office in Houston, Texas. For more information visit www.SpaceFoundation.org. Follow us on Facebook, LinkedIn and Twitter, and read about the latest space news and Space Foundation activities in Space Watch.
# # #
---
Posted in Space Foundation Press Releases