Partner News
---
MEDB celebrates innovation during its 30th anniversary
Written by: developer

KIHEI (Sept. 6, 2012) – Former NASA Astronaut Leroy Chiao will headline a new innovation series sponsored by Maui Economic Development Board.
The event is part of MEDB's yearlong 30th anniversary celebration and an effort by the nonprofit to encourage, empower and engage the island community with building technology and developing a sustainable diversified economy for Maui County.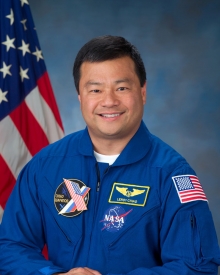 Chiao's presentation is set for 5:30 p.m., Thursday, Sept. 13, at the Cameron Center Auditorium. The event is free and open to the public.  Seating is limited and reservations are recommended by calling Cari Taylor, 875-2336, or email [email protected].  MEDB's innovation series continues Nov. 20 with a session featuring University of Hawaii President MRC Greenwood. Also confirmed to speak in early 2013 are surgeon, inventor and Hawaii entrepreneur Dr. Hank Wuh, and video game designer, entrepreneur and environmental philanthropist Henk Rogers.
Attendees at the Sept. 13th presentation with Chiao will hear about his historic space flight and will have an opportunity to ask him questions. Chiao's appearance is co-sponsored by the Space Foundation where he serves as a special advisor, Human Spaceflight.
Chiao has extensive experience as a NASA astronaut and, prior to that, as a research engineer. He also is involved in business ventures and works in the United States, China, Japan and Russia. He is an executive vice president and director of Excaliber Alimaz, a private manned space flight company. In addition, he is director of InNexus, a biotechnology/pharmaceutical development company. He serves as chairman of the National Space Biomedical Research Institute User Panel, which is attached to the Baylor College of Medicine.
As an astronaut, Chiao has flown space missions and worked closely with Russian, Japanese and European astronauts and their affiliated space agencies. A space station commander and space shuttle mission specialist, Chiao was also a certified co-pilot of the Russian Soyuz spacecraft. In September 2006, Chaio became the first American to visit the Astronaut Research and Training Center of China.
The Maui Economic Development Board (MEDB) is a 501(c)(3) not-for-profit corporation established in 1982 with a focus on diversifying Maui's economy. MEDB partners with the private, public and nonprofit sectors at the local and national levels to achieve its goals. MEDB's programs — which are founded on a respect for Hawaii's culture and precious environment — assist growth industries, educate and train residents for new career pathways, and build consensus in addressing the community's challenges and opportunities. MEDB is governed by a 36-member Board of Directors drawn from business, government, academia and nonprofit organizations. For more information, call 875-2300, or visit: www.medb.org.
# # #
Contact:
Jeanne Skog
808-875-2300
---
Posted in Partner News