Space Foundation News
---
UTEP Launches cSETR
Written by: developer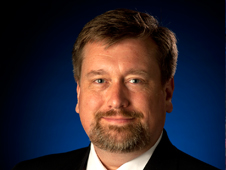 Space Foundation CEO Elliot Pulham will help celebrate the opening of the Center for Space Exploration Technology Research (cSETR) and the NASA Science, Engineering, Mathematics and Aerospace Education Laboratory at The University of Texas at El Paso (UTEP) on Sept. 6. Also attending the opening will be NASA Chief Technologist Mason Peck, along with officials from UTEP and state and local leaders.
The NASA-funded cSETR conducts analytical, experimental and computational energy research, with a particular focus on green propulsion.
See more at www.nasa.gov/home/hqnews/2012/aug/M12-166_Peck_El_Paso.html.
Pictured: NASA Chief Technologist Mason Peck
---
Posted in Space Foundation News