Space Foundation News
---
Space Foundation Participates on AMOS Technology Panel
Written by: developer
The Space Foundation is supporting the future of space with programs at the 13th annual Advanced Maui Optical and Space Surveillance Technologies (AMOS) Conference this week in Maui, Hawai'i. Involvement includes presentation of a space technology panel on the main agenda, education programs for teachers and students, a reception for young space professionals and co-sponsorship of a special space situational awareness forum. The conference, a program of the Maui Economic Development Board, Inc. (MEDB), runs Sept. 11-14.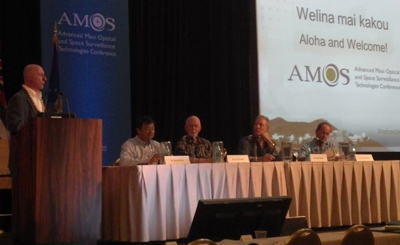 On Wednesday morning, Space Foundation Director – Space Awareness Programs Kevin Cook moderated the panel, The Impact of Space Technology Transfer & Commercialization. Panelists included:
Dr. Leroy Chiao, former NASA astronaut and Space Foundation special advisor – human spaceflight 
David Deigan, founder, president & CEO, AFMInc 
Wes Friewald, president Pacific Defense Solutions
Dr. Patrick K. Sullivan, chairman and founder, Oceanit
Cook runs two Space Foundation space awareness programs that focus on the adaptation of space innovations to benefit society: Space CertificationTM and the Space Technology Hall of Fame®. AFMInc's thermal reflective products, HEATSHEETS® and Thermoflect, are both certified by the Space Foundation. Oceanit is one of Hawai'i's largest and most diversified science and engineering companies.
---
Posted in Space Foundation News