Space Foundation News
---
Forum Addresses Space, Free Enterprise
Written by: developer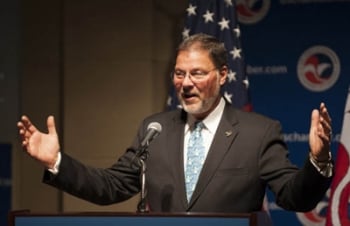 Elliot Pulham, Space Foundation chief executive officer, was keynote speaker for Business Horizon Series: Free Enterprise and the Final Frontier, a program sponsored by the Space Foundation and the U.S. Chamber of Commerce Foundation, and held Feb. 11 at the Anheuser-Busch Briefing Center in Washington, D.C.
About 120 people attended the program, which examined the companies, investors and entrepreneurial leaders seeking to develop new industries and opportunities in commercial space. The half-day event featured a variety of panels and speakers from the aerospace community.
Pulham opened the event with his presentation Pluto is No Longer a Planet – And the Space Industry is No Longer What You Think.
The panel discussions began with We Have Liftoff – A Look at the Fastest Growing Sectors in Space Enterprise, moderated by Richard Cooper of Forum for Innovation, with panelists:
Matthew Dunn, director of government affairs, SpaceX*
Steve Isakowitz, executive vice president and chief technology officer, Virgin Galactic
Peter Marquez, former National Security Council industry executive
Mark Sirangelo, corporate vice president, Sierra Nevada Corporation* (SNC), and chairman of SNC Space Systems 
The next panel, Houston, We Have an Investment: A Look at the Financing and Investment of the Industry, was moderated by Nick Schulz of Forum for Innovation, with panelists:
Hoyt Davidson, managing partner, NearEarth LLC*
John Higginbotham, chairman and chief executive officer, Blue Ridge Networks*
Linda Maxwell, Defense and Government (ADG) Investment Banking Group, Houlihan Lokey
John Raidt of Forum for Innovation moderated the final panel Liftoff Starts Here – States Investing in a New Frontier, with panelists:
Christine Anderson, executive director, New Mexico Spaceport Authority 
Jim Kuzma, chief operating officer, Space Florida
Vicky Lea, aerospace industry manager, Colorado Space Coalition
Mead Treadwell, lieutenant governor, Alaska
See more at http://forum.uschamber.com/.
Pictured: Elliot Pulham, Space Foundation chief executive officer, speaking at Business Horizon Series: Free Enterprise and the Final Frontier
*Space Foundation Corporate Members 
---
Posted in Space Foundation News