Partner News
---
Premier Issue of New Space Journal Launched at 29th National Space Symposium in Colorado Springs
Written by: developer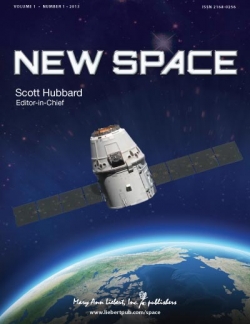 NEW ROCHELLE, N.Y. (April 8, 2013) – New Space, the groundbreaking, peer-reviewed Journal published by Mary Ann Liebert, Inc., publishers, launched its inaugural issue at the 29th National Space Symposium being held April 8-11 at the Broadmoor Hotel in Colorado Springs, Colo. Spearheaded by Editor-in-Chief Professor Scott Hubbard from the Department of Aeronautics and Astronautics at Stanford University, the Journal facilitates the emerging multidisciplinary and entrepreneurial opportunities for space-based collaborations of industry, academia, and government. New Space is published quarterly online with Open Access options and in print.
The inaugural issue includes premium content from leading experts in the field, including an editorial byScott Hubbard, a cogent opinion statement by Space Foundation CEO Elliot Holokauahi Pulham, and a roundtable discussion titled "Growing the Future of Commercial Space" hosted by Dr. Hubbard with timely, valuable perspectives from participants Ken Davidian, Steve Isakowitz, John Logsdon, James R. (Russ) McMurry, George Nield, and Marcia Smith. Additionally, the issue includes new peer-reviewed original articles "Industry Structural Analysis of the Commercial Suborbital Research Market" by Ken Davidian andCindy Conrad; "The State of Space Economical Analyses: Real Questions, Questionable Answers" by Henry R. Hertzfeld; "Commercial On-Orbit Satellite Servicing" by Alanna Krolikowski and Emmanuelle David; "The B612 Foundation Sentinel Space Telescope" by Edward T. Lu, Harold Reitsema, John Troeltzsch, and Scott Hubbard; and "Certification Versus Licensing for Human Spaceflight in Commercial Space Transportation" byGeorge C. Nield, Mahamane Toure', John Sloan, and David Gerlach.
"This new Journal provides a much-needed forum for the rapidly advancing knowledge, engineering, and technological developments in this important field–with great potential for benefit to humanity and our world," says Editor-in-Chief Hubbard.
In addition to peer-reviewed manuscripts, New Space publishes interviews with leading innovators, roundtable discussions with experts in a variety of fields, point-counterpoint discussions, and briefs describing lab demonstrations and field trials.
About the Journal
New Space facilitates and supports the efforts of researchers, engineers, analysts, investors, business leaders, and policymakers to capitalize on the opportunities of commercial space ventures. Spanning a broad array of topics including technological advancements, global policies, and innovative applications, the journal will bring the new space community together to address the challenges and discover new breakthroughs and trends in this epoch of private and public/private space discovery. The Journal is published quarterly online with Open Access options and in print. Complete table of contents are available on the New Space website.
About the Publisher
Mary Ann Liebert Inc., publishers is a privately held, fully integrated media company known for establishing authoritative medical and biomedical peer-reviewed journals, including Big Data, Disruptive Science and Technology, and Astrobiology. Its biotechnology trade magazine, Genetic Engineering & Biotechnology News (GEN), was the first in its field and is today the industry's most widely read publication worldwide. A complete list of the firm's more than 70 journals, newsmagazines, and books is available on the Mary Ann Liebert Inc., publishers website.
---
Posted in Partner News