Space Foundation News
---
Kehler Headlines Corporate Partnership Dinner
Written by: developer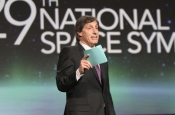 The Space Symposium Corporate Partnership Dinner recognizes the Space Foundation's many Corporate Members and thanks them for their support and participation.
The 2013 event was co-sponsored by Raytheon, emceed by Space Foundation Vice Chairman Lon Levin (pictured, left) and hosted by Bill Hart, vice president, Raytheon Space Systems.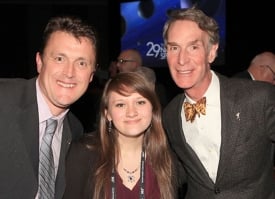 The dinner featured recognition of Sarah Volz, a local Colorado Springs high school student who recently won a $100,000 scholarship in the Intel Science Talent Search, a video highlighting Space Foundation Corporate Members' 2012 accomplishments and remarks by United States Strategic Command (STRATCOM) Commander Gen. C. Robert Kehler, USAF.
Pictured, right, Space Foundation Vice President - Education Iain Probert, Sarah Volz and Bill Nye the Science Guy.
Highlights of Kehler's Remarks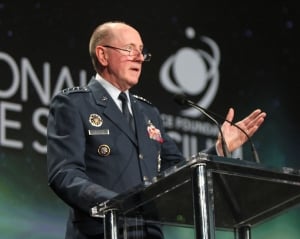 Kehler gave a STRATCOM perspective, saying, "Uncertainty and complexity continue to dominate our national security landscape, (which) is increasingly characterized for the potential for a wide variety of conflict across all domains... technologies that allow us to move freely about the globe will likely make yesterday's battlefield tomorrow's global battle space."
Saying STRATCOM "will never waiver from the highest vigilant standards of excellence that the nuclear mission demands," Kehler added, "today's STRATCOM is far more diverse and versatile than ever before."
He cited the ability to create synergy from a range of strategic capabilities, including those that can:
Create decisive impact
Affect large physical areas
Act across great distances
Persist over long periods of time
Change the status quo in some fundamental way
Provide the President ready military options in extreme circumstances
"Those abilities are unique," said Kehler. "STRATCOM's nuclear and conventional strikes, space, cyber and other capabilities remain foundational to confronting the challenges of the future... STRATCOM's responsibilities and capabilities underwrite freedom of action for our nation and generate viable options for our national leaders."
Saying that "no other armed force relies on space as broadly or deeply as the U.S. military and no other military force derives the same unprecedented operational advantages from its use of space capabilities," Kehler noted that space capabilities have offered "recurring access to denied or distant areas around the globe that has proven vital to monitoring strategic military developments as well as supporting and verifying treaty compliance.
"Times have changed," said Kehler, and "Today's space environment is characterized by more participants, more activity and the proliferation of a variety of capabilities that eventually can threaten our access to and freedom of action in space during a conflict."
He then outlined key responsibilities of the commander of USSTRATCOM:
Planning and conducting a full range of space operational missions
Advocating for space capabilities
Serving as the DoD manager for human space flight operations
Providing warning and assessment of attack on space assets
Serving as the single point of contact and representative for military space operational matters
Conducting space situational awareness (SSA) operations for a wide variety of users including civil and, as appropriate, commercial and foreign space entities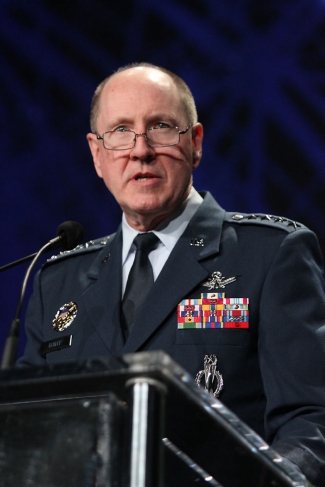 "Ensuring that space capabilities will be available whenever and wherever they are needed is one of my top priorities," he said. "STRATCOM has spent much of the last year improving our contingency plans and working with our service components to enhance the resilience of our space capabilities."
Kehler said that STRATCOM is in the process of streamlining procedures to detect, identify, characterize, geo-locate and resolve unwanted electromagnetic interference as well as providing conjunction analysis and collision warning for a growing number of space operators around the world.
He gave examples of that commitment:
Over the past several years, STRATCOM entered into 35 signed commercial SSA sharing agreements
In 2012, it provided orbital data to 90 commercial and foreign and 180 U.S. entities
On a daily basis in 2012, it reviewed and received nearly 500,000 satellite observations and screened more than 1,000 active satellites
From those screenings, it provided more than 10,000 conjunction warnings, supported 75 conjunction avoidance maneuvers and fulfilled more than 300 orbital data requests for more than 85 separate entities
"We're working to improve our partnership with key friends and allies through a concept called Combined Space Operations built upon the current Joint Space Operation Center at Vandenberg with virtual connections between it and other nation's space operation centers around the world," said Kehler.
"Access to orbit remains vital to national security, and the key to achieving it is an industrial base that is capable, responsive and affordable," said Kehler, noting that launch diversity could prove positive. "We support the efforts of the Air Force to expand the available industrial base of certified and proven launch providers... we must continue to invest in capabilities that assure our access to space," he said.
Kehler laid out a long list of needs, including:
Rules that enhance national security by focusing on the places and activities that may pose a threat
Improved resilience of space, ground and network components
Better plans, better operating concepts, tactics, techniques and procedures to improve protection of space capabilities as they become more and more threatened
A solid industrial base with the right people leading and working in it
Ways to drive costs down
Kehler closed by talking about cyberspace, saying, "Maybe the greatest threat to our space capability will come through cyberspace. And maybe that threat will come as espionage against your intellectual property."
He asked the space community to "lock your doors" because, "right now, someone from halfway around the world is trying to get into your network, looking to steal what you are developing. Espionage saves a spy millions of dollars in investment and years of effort. Espionage is a great way to evaluate our capabilities and design counters to them. The results of espionage mean that in some future conflict a young American dies or we lose.
"No one does space better than our U.S. industry team," he said. "That's why cyber spies are after you."
Kehler said that "a number of important steps have been taken recently," but that "we all are in for some very challenging days ahead."
But, he continued, "I am very confident in our capabilities to defend the nation and our allies, despite our challenges.
"I'm encouraged and impressed by the young men and women who we are fortunate enough to have serving in our military today because they are the ones who endure. They are the ones who are able to handle whatever we send in their direction," he said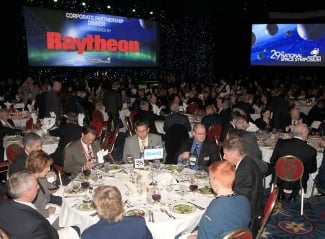 "They are the ones who are able to handle whatever we send in their direction. Together with them and with our, our industry partners, the future of space and thus our national security has a bright future."
See More
See a video of the event here.
See photos here.
Read Kehlers remarks here.
---
Posted in Space Foundation News