Space Foundation News
---
Chuck Zimkas Receives Hartinger Award
Written by: developer
Retired Space Foundation President Chuck Zimkas received the 2013 National Defense Industrial Association (NDIA) General James V. Hartinger Award at the NDIA Rocky Mountain Ball Friday evening at the Hotel Elegante in Colorado Springs, Colo.
According to the award citation, Zimkas "…distinguished himself through a lifetime of outstanding accomplishment both in the military supporting the Air Force space mission and in industry by laying the foundation and advancing the Space Foundation's commitment to international space development."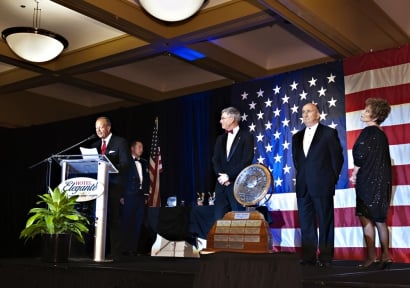 The most recent Hartinger Award recipients include:
2012 – Gen. Bruce Carlson, USAF
2011 – Gen. Kevin P. Chilton, USAF
2010 – Gen. G. Wesley Clark, USAF
2009 – Gen. C. Robert Kehler, USAF
About Zimkas
Formerly president of the Space Foundation, Zimkas retired in July after 27 years with the organization. In recognition of the long-time service and volunteer contributions of both Zimkas and his wife Ursula, the Space Foundation established the Chuck and Ursula Zimkas Space Library at its world headquarters in Colorado Springs. The opening of the library will be announced soon.
Before joining the Space Foundation Zimkas served for 26 years in the U.S. Air Force, during which he was selected as one of the Twelve Outstanding Airmen of the Year for the United States Air Force, as senior enlisted advisor for NORAD and as the first Air Force Space Command senior enlisted advisor. After Zimkas' Air Force retirement, Air Force Space Command dedicated its Enlisted Heritage Room in his honor.
Zimkas is active in national, regional and community activities, including serving as a member of the Rocky Mountain Chapter of National Defense Industrial Association (NDIA), the Lance P. Sijan Chapter of the Air Force Association (AFA) and as vice president of the Arrowswest Owners Association Board. He is an Emeritus Member of the AFA National Board of Directors.
---
Posted in Space Foundation News