Space Foundation News
---
Space Foundation Presents Audience With an Astronaut for Colorado Springs Science Festival
Written by: developer
As part of its World Space Week events, the Space Foundation brought former NASA astronaut Leroy Chiao, Ph.D., to Colorado Springs, Colo., for a series of Audience With an Astronaut presentations. Based in Houston, Chiao also serves as Space Foundation Special Advisor – Human Spaceflight.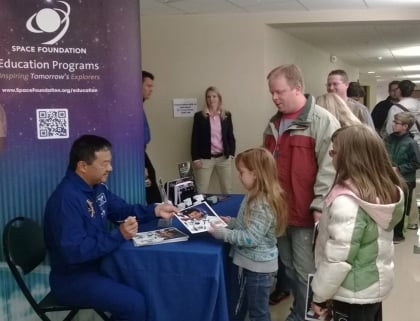 The Space Foundation is a proud World Space Week Partner Organization. Initiated by the United Nations General Assembly in 1999, World Space Week is an international celebration of space, and is held each year Oct. 4-10.
On Saturday, Oct. 5, Chiao's presentation was part of the public Colorado Springs Science Festival at the University of Colorado at Colorado Springs. Chiao told the families who gathered for his talk about his childhood interest in science and how that interest led to his career as an astronaut.
Chiao grew up in Danville, Calif., and earned a Doctor of Philosophy degree in chemical engineering from the University of California at Santa Barbara. A native English speaker, he also speaks Mandarin Chinese and Russian.

His Space Shuttle missions include: STS-92 Discovery, Oct. 11-24, 2000; STS-72 Endeavour, Jan. 11-20, 1996; and STS-65 Columbia, July 8-23, 1994
In addition, he flew as Flight Engineer 1 aboard Soyuz TMA-5 to the International Space Station (ISS), where he served as commander and NASA science officer for Expedition 10. He lived on the ISS for six and half months. Chiao received the NASA Distinguished Service Medal in 2004.
Read more about the Space Foundation's World Space Week activities here.
---
Posted in Space Foundation News