Partner News
---
Orbit Logic Sponsors Balloon Launch of CubeSat
Written by: developer

GREENBELT, Md., (October 18, 2013) – On Sunday, October 20, 2013, the Fort McHenry Composite Squadron (MER-MD-140) of the Civil Air Patrol will be launching a balloon to 100,000 feet carrying a CubeSat sponsored by Orbit Logic.
This is the second mission for the Civil Air Patrol, High Altitude Stratospheric Experiment or C.H.A.S.E. The first mission had the goal of capturing images of the stratosphere. The goal for the second mission is to repeat the success of the first mission in CubeSat form with additional sensors. The second CHASE mission also seeks to exceed 100,000 feet in altitude. However, the main purpose of the mission is to be a Science, Technology, Engineering, And Math (STEM) Aerospace Educational activity for Civil Air Patrol cadets.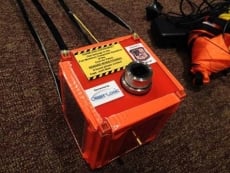 The CHASE mission will be part of Civil Air Patrol's Maryland Wing Rocketry Day where Civil Air Patrol Cadets from different squadrons in Maryland will be launching model rockets.
"Sending electronics on a weather balloon to take pictures of the stratosphere is a fun way to get kids excited about STEM activities. " said Captain Josh Neel, Aerospace Education Officer of the Fort McHenry Composite Squadron of the Civil Air Patrol and a Principal Software Engineer at Orbit Logic. "It's great for this mission to have the support of a company like Orbit Logic that has operational experience in aerospace."
Orbit Logic (www.orbitlogic.com) specializes in mission planning and scheduling solutions for aerospace and geospatial intelligence. Orbit Logic's operationally proven COTS products create better plans faster with fewer resources for all mission phases. Orbit Logic engineering services are available to configure, customize, and integrate these tools to provide turn-key operational solutions.
---
Posted in Partner News