Space Foundation News
---
Silent Auction Bidding is Now Open!
Written by: developer
The 2nd Annual Space & Science Fiction Halloween Ball is a fundraiser for Space Foundation initiatives. This adults-only party will be held at the Space Foundation World Headquarters and Discovery Center, 4425 Arrowswest Dr., Colorado Springs, Saturday, Oct. 26, 7:00 – 11:00 p.m.
Take a sneak peek now at the many unique items up for silent auction here.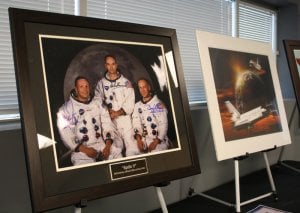 Not only can you preview them, you can also start bidding now! Throughout the event, you will be able to enjoy the party without having to worry about your favorite silent auction items, because you'll be able to bid and update bids via your smart phone and text messaging.
No smart phone? No worries! Just find a team member dressed in red at the Ball and they will help you bid on your favorite items. Here are some of the items available for bidding now:
Astronaut Experience
Description: (for two people) Imagine yourself at the controls of the Space Shuttle…feeling the g-forces of spaceflight or preparing for launch at Kennedy Space Center. Have you ever wanted to train like an astronaut? The Astronaut Training Experience (ATX) program immerses you in the exciting world of today's astronauts with realistic astronaut training.
Signed Star Wars Poster
Description: Star Wars poster signed by Harrison Ford, Carrie Fisher, Mark Hamill, John Williams, James Earl Jones, Frank Oz, George Lucas and Billy Dee Williams. (Certificate of Authenticity)
Signed Star Trek Photo
Description: Star Trek photo signed by William Shatner, Leonard Nimoy, DeForest Kelly, Nichelle Nichols, James Doohan, George Takei, Majel Barrett, Walter Koenig and Gene Roddenberry
Plus many fun items and packages for family outings, date nights and gift ideas for every age. For more information or questions, visit www.SciFiSprings.com or call 719.576.8000.
Thank You Sponsors and Donors!
Event sponsors are ACA Security, New Vista Image and Stonebraker Rocky Mountain Fireworks.
Advertising sponsers include Garden of the Gods Club, Hyatt Place Colorado Springs, Peak 92.9 FM and SpringsMagazine.
Silent Auction donors include 3 Tigers Martial Arts, Airport Value Inn, Antlers Hilton, Barnes and Noble, Breckenridge Distillery, Brunswick Zone XL, CarpetCare Craftsman, Charity Fundraising, CHEFS Outlet, Cheyenne Mountain Resort, Chrys Rheinbolt, CO Lumber Specialties, Colorado Avalanche, Craftwood/Stagecoach Inn, Creative Expressions, Denver Nuggets, Dinosaur Resource Center, Downtown Aquarium, Eden Salon, Elitch Gardens, Embassy Suites, Ent Federal Credit Union, EON Office, Escape Velocity, Garden of the Gods Club, Ghost Town Museum Hotel Elegante, Hub Car Wash and Diner, Intellitec Medical Institute, Jared's Galleria of Jewelry, Kuni Lexis, Leandra George, Lia Sophia, Lush Wine Studio and Taphouse, Manitou and Pikes Peak Railway Company, Marco's Pizza, Monument Hill Country Club, Motion Pixel Lab, Inc., Nail Design, Origami Owl, P.B. & Jellies New York Deli, Pressed4Time, Red Leg Brewing Company, Royal Gorge Route Railroad, Santa's Workshop, Space Foundation, Spirits at Westwind, Splash, Tenacious Spray Tan, Texas T-Bone, TGI Friday's, The Broadmoor Hotel, The Famous A Steak House, The Wildlife Experience, The Wines of Colorado, Timeless Body Art, Travis Schenck, Tucanos, U.S. Taekwondo, U.S. Toy Company, Walmart, Western Museum of Mining and Industry, What's In Store, Whistling Pines Gun Club, Whole Foods and Woodcraft.
In-kind donors included Aaa Rental Center, Blue Sage Catering, CEAVCO Audio Visual, Doubletree by Hilton, Picnic Basket Catering, Summit Catering and The Broadmoor Hotel.
---
Posted in Space Foundation News