Space Foundation News
---
Register Now for the Space Symposium and Save $500 on Standard Industry Registration
Written by: developer
The Space Foundation's 30th Space Symposium will be held May 19-22, 2014, at The Broadmoor Hotel in Colorado Springs, Colo., U.S.A. A Super Early Bird rate is now available, with up to $500 in savings, for industry attendees who register before Jan. 24 at www.SpaceSymposium.org. Space Symposium registration includes admittance to the exhibit center, the opening ceremony and several networking events throughout the week.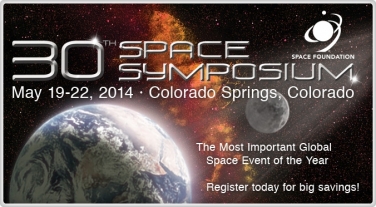 Expect even more international participation at the 30th Space Symposium than in previous years. Widely known as the most significant global space industry conference, the Space Symposium annually attracts more than 9,000 participants worldwide, including top decision makers from civil, military, commercial and academic institutions.
Another of the main reasons to attend the 30th Space Symposium is the dynamic Boeing Exhibit Center and Boeing Exhibit Center Pavilion, featuring more than 160 displays of the world's latest space technology, products and services.
More than 100 top civil and military space leaders from the U.S. and abroad are slated to speak, including:
Brig. Gen. Yves Arnaud, FAF, Commander, Joint Space Command, French Ministry of Defense
Charles F. Bolden, Jr., NASA Administrator
Lt. Gen. James R. Clapper, Jr., USAF (Ret.), Director of National Intelligence
Yasushi Horikawa, Ph.D., Chairman, United Nations Committee on the Peaceful Uses of Outer Space
Letitia A. Long, Director, National Geospatial-Intelligence Agency
Gen. William L. Shelton, USAF, Commander, Air Force Space Command
Space Symposium Website Available in 71 Languages
Space Foundation web designers have created a dynamic new Space Symposium website that is easy to use and, thanks to Google Translate, provides information in 71 languages. The new website also loads faster than in previous years and is responsive and adaptive for mobile and tablet devices. It also provides greater exposure for event co-sponsors.
Co-sponsors
The Space Symposium officially kicks off Monday evening, May 19, with a spectacular opening ceremony, co-sponsored by Northrop Grumman. Other event co-sponsors include: a.i. solutions; Aerojet Rocketdyne; Arianespace; ATK; Ball Aerospace & Technologies Corp.; Colorado Space Business Roundtable (CSBR); Lockheed Martin; PAE; Raytheon; Scitor Corporation; SES Government Solutions and The Boeing Company. SatNews Publishers is a media partner.
Register Now
The 30th Space Symposium is preceded by a full-day cyberspace conference, Cyber 1.4 on Monday, May 19, at The Broadmoor Hotel. Cyber 1.4 requires separate registration, and a substantial discount is available when combined with Space Symposium registration.
See details, including how to exhibit and how to become a sponsor and how to get the Super Early Bird rate at www.SpaceSymposium.org.
---
Posted in Space Foundation News