Space Foundation News
---
The Space Symposium's Boeing Exhibit Center Pavilion is Up!
Written by: developer
An annual sign of spring is the sight of the Pavilion being erected at The Broadmoor in preparation for the Space Foundation's Space Symposium.

The Pavilion is one of two exhibit halls where exhibitors from around the world will be displaying the latest in space technology, products and services during the Symposium, May 19-22.
The Boeing Exhibit Center and Boeing Exhibit Pavilion will open Monday evening, May 19, immediately following the Symposium's Opening Ceremony, and will be followed by a spectacular fireworks display at The Broadmoor, co-sponsored by Intelsat General.
New this year — the walkway between the Boeing Exhibit Center and the Boeing Exhibit Center Pavilion will have full-length windows to let in natural light.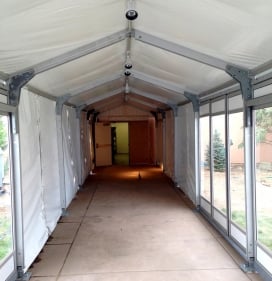 Boeing Exhibit Center Hours will be:
Monday 7:30 p.m. – 9:00 p.m.
Tuesday 9:00 a.m. – 7:00 p.m.
Wednesday 9:00 a.m. – 5:00 p.m.
Thursday 9:45 a.m. – 5:00 p.m.
The Boeing Exhibit Center is not open to the general public.
See the complete list of exhibitors and a map of the exhibits here.
Register Now to Attend
The 30th Space Symposium is preceded by a full-day cyberspace conference, Cyber 1.4 on Monday, May 19, at The Broadmoor.
See the agenda, details about speakers, and register for both the Symposium and Cyber 1.4 at www.SpaceSymposium.org.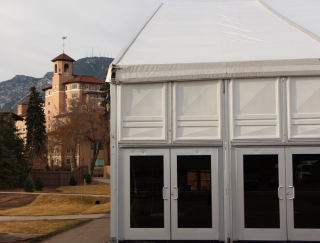 Reserve Space Now for 2015
The Boeing Exhibit Center and Boeing Exhibit Center Pavilion are sold out for 2014. Plan now to exhibit at next year's 31st Space Symposium, to be held at The Broadmoor, April 13-16, 2015.
The thousands of people who tour the exhibits each year include C-level industry executives, senior decision makers and government officials.
To reserve exhibit space for 2015, contact [email protected].
---
Posted in Space Foundation News