Space Foundation News
---
Corporate Partnership Dinner Features The Honorable Eric Fanning
Written by: developer
The Honorable Eric Fanning, the Under Secretary of the Air Force, USAF, was this year's featured speaker at the 30th Space Symposium Corporate Partnership Dinner. A key event at the annual Space Symposium, the Corporate Partnership Dinner recognizes the organizations that support Space Foundation education, research, analysis, policy and space awareness programs.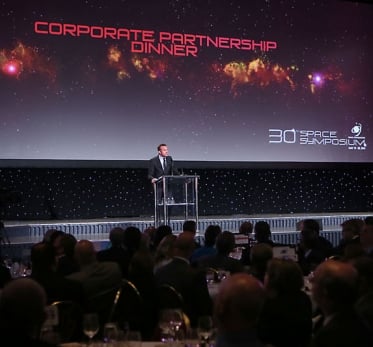 The dinner, held on May 20 at The Broadmoor Hotel in Colorado Springs, Colo., was co-sponsored by Raytheon, with corporate host Lynn A. Dugle, president, Raytheon Intelligence, Information and Services (IIS), and Space Foundation board member.
As Under Secretary of the Air Force, Fanning is responsible for all Air Force affairs on behalf of the Secretary of the Air Force, including organizing, training and equipping the force. He serves as acting Secretary of the Air Force in the Secretary's absence. Prior to assuming his current position, he served as the Deputy Under Secretary of the Navy/Deputy Chief Management Officer.
Corporate Member recognition at the annual Space Symposium also includes the Corporate Member Appreciation Ceremony & Reception, held in The Broadmoor's historic Carriage Museum, followed by the Corporate Partnership Cocktail Reception.
Learn about the benefits of becoming a Space Foundation Corporate Member here.
---
Posted in Space Foundation News