Space Foundation News
---
Director of National Intelligence is Featured Speaker at 30th Space Symposium
Written by: developer
Featured speaker for the last day of the Space Foundation's 30th Space Symposium was The Honorable James R. Clapper (Lieutenant General, USAF, Ret.), Director of National Intelligence.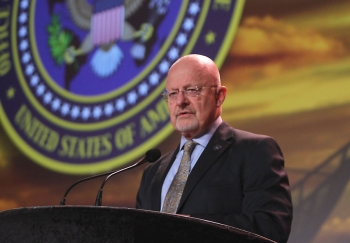 Clapper discussed increasing reliance on commercial space imagery and increasing cooperation between U.S. intelligence agencies.
"Our odyssey has been one of coming together. The intelligence agencies would rather partner than compete."
Prior to becoming the Director of National Intelligence, Clapper served for over three years in two administrations as the Under Secretary of Defense for Intelligence, where he served as the principal staff assistant and advisor to the Secretary and Deputy Secretary of Defense on intelligence, counterintelligence and security matters for the Department. In this capacity, he was also dual-hatted as the Director of Defense Intelligence for DNI.
The 30th Space Symposium brought together top government and space leaders from around the world for four days of discussion, May 19-22, at The Broadmoor in Colorado Springs, Colo. See more about the program at www.spacesymposium.org.
---
Posted in Space Foundation News