Partner News
---
SpyMeSat Mobile App Now Offers High Resolution Satellite Imagery
Written by: developer

GREENBELT, Md. (June 10, 2014) – Orbit Logic announced today that the iPhone version of their SpyMeSat mobile app will now offer in-app purchase of recent high resolution satellite imagery.  SpyMeSat users will be able to use their mobile device to preview a recent commercial satellite image of a specified location, select the desired image size, and purchase the image for download.  Once the images are downloaded, they can be printed, e-mailed, or displayed in social media.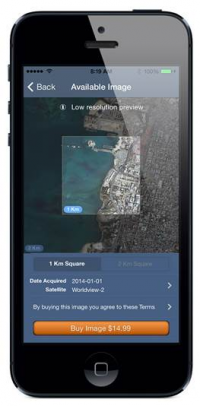 "Now SpyMeSat users can download recent satellite imagery as easily as they can download a song or an app." said Alex Herz, president of Orbit Logic. "This is the same high resolution commercial satellite imagery used by government intelligence agencies, but at a small fraction of the price.  SpyMeSat brings satellite imagery to a personal, accessible scale by removing cost and process barriers through technology."
Prices start at $14.99 for a 1km square image.  Alex Herz went on to say that with this accessibility and pricing level he expects expanded use of satellite imagery by state and local governments and small businesses for real estate, land use, remote site monitoring, and other applications.
Orbit Logic has signed an agreement with DigitalGlobe of Longmont, Colorado in order to provide SpyMeSat users with access to the most recent and highest resolution commercial satellite imagery available.  DigitalGlobe's constellation of imaging satellites (including WorldView-1, WorldView-2, and GeoEye-1) collect imagery with higher resolution and more accuracy than any other commercial satellites in the world.  DigitalGlobe maintains a global, high resolution satellite imagery archive, which SpyMeSat users will now be able to tap into.
Follow SpyMeSat on Twitter @SpyMeSat
Like SpyMeSat on Facebook
Find more information and see a demo video at www.spymesat.com
Orbit Logic (www.orbitlogic.com) specializes in software for mission planning, scheduling, and space situational awareness. Orbit Logic's operationally proven software products – Collection Planning & Analysis Workstation, STK Scheduler, SpyMeSat Mobile App, Collection Feasibility Tool, and Sibyl Satellite Tasking Mobile App – create better plans faster with fewer resources, more insight, and less risk. Orbit Logic engineering services are available to configure, customize, and integrate Orbit Logic mobile, desktop, and web-based applications to provide turn-key operational solutions.
For additional information regarding this press release contact Alex Herz at 301-982-6233 or via email at [email protected]
---
Posted in Partner News