Space Foundation News
---
Della-Rose Lecture is June 27 at the Discovery Center
Written by: developer
Dr. Devin J. Della-Rose, director of the U.S. Air Force Academy's Astronomical Research Group and Observatory, will discuss his work and research regarding exoplanet discoveries during a presentation at the Space Foundation's Summer of Discovery "Astronomy" program at 6:00 p.m. on Friday, June 27, at the Discovery Center, 4425 Arrowswest Drive, Colorado Springs.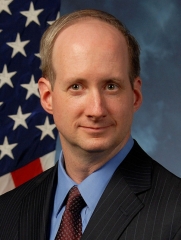 According to Della-Rose, the search continues for planets that could contain life similar to Earth. "If there are more than 100 billion planets, we can estimate that 40 billion of those are Earth-sized and habitable," he said. "There are that many possibilities for other life in the galaxy. It's pretty exciting."
Dr. Della-Rose has 20 years of Air Force experience as a military officer in providing space weather support to DOD operations, developing new space weather support technologies and in graduate space physics education of Air Force officers at the Air Force Institute of Technology (AFIT). He received a B.S. degree in physics and astronomy from Texas Christian University in 1985, a B.S. degree in meteorology from The Pennsylvania State University in 1987, an M.S. degree in space physics from Utah State University in 1992 and a Ph.D. in space physics from Utah State University in 1999.
After his presentation, visitors are invited to stay for the Discovery Center's evening of star gazing with Southern Colorado Astronomical Society.
To learn more about the Summer of Discovery, click here.
Thank you to our "Astronomy" sponsor Ent Federal Credit Union.
Normal
0
false
false
false
EN-US
X-NONE
X-NONE
MicrosoftInternetExplorer4
<w:LatentStyles DefLockedState="false" DefUnhideWhenUsed="true"
DefSemiHidden="true" DefQFormat="false" DefPriority="99″
LatentStyleCount="267″>
<w:LsdException Locked="false" Priority="0" SemiHidden="false"
UnhideWhenUsed="false" QFormat="true" Name="Normal"/>
<w:LsdException Locked="false" Priority="9" SemiHidden="false"
UnhideWhenUsed="false" QFormat="true" Name="heading 1″/>
<w:LsdException Locked="false" Priority="10" SemiHidden="false"
UnhideWhenUsed="false" QFormat="true" Name="Title"/>
<w:LsdException Locked="false" Priority="11" SemiHidden="false"
UnhideWhenUsed="false" QFormat="true" Name="Subtitle"/>
<w:LsdException Locked="false" Priority="22" SemiHidden="false"
UnhideWhenUsed="false" QFormat="true" Name="Strong"/>
<w:LsdException Locked="false" Priority="20" SemiHidden="false"
UnhideWhenUsed="false" QFormat="true" Name="Emphasis"/>
<w:LsdException Locked="false" Priority="59" SemiHidden="false"
UnhideWhenUsed="false" Name="Table Grid"/>
<w:LsdException Locked="false" Priority="1" SemiHidden="false"
UnhideWhenUsed="false" QFormat="true" Name="No Spacing"/>
<w:LsdException Locked="false" Priority="60" SemiHidden="false"
UnhideWhenUsed="false" Name="Light Shading"/>
<w:LsdException Locked="false" Priority="61" SemiHidden="false"
UnhideWhenUsed="false" Name="Light List"/>
<w:LsdException Locked="false" Priority="62" SemiHidden="false"
UnhideWhenUsed="false" Name="Light Grid"/>
<w:LsdException Locked="false" Priority="63" SemiHidden="false"
UnhideWhenUsed="false" Name="Medium Shading 1″/>
<w:LsdException Locked="false" Priority="64" SemiHidden="false"
UnhideWhenUsed="false" Name="Medium Shading 2″/>
<w:LsdException Locked="false" Priority="65" SemiHidden="false"
UnhideWhenUsed="false" Name="Medium List 1″/>
<w:LsdException Locked="false" Priority="66" SemiHidden="false"
UnhideWhenUsed="false" Name="Medium List 2″/>
<w:LsdException Locked="false" Priority="67" SemiHidden="false"
UnhideWhenUsed="false" Name="Medium Grid 1″/>
<w:LsdException Locked="false" Priority="68" SemiHidden="false"
UnhideWhenUsed="false" Name="Medium Grid 2″/>
<w:LsdException Locked="false" Priority="69" SemiHidden="false"
UnhideWhenUsed="false" Name="Medium Grid 3″/>
<w:LsdException Locked="false" Priority="70" SemiHidden="false"
UnhideWhenUsed="false" Name="Dark List"/>
<w:LsdException Locked="false" Priority="71" SemiHidden="false"
UnhideWhenUsed="false" Name="Colorful Shading"/>
<w:LsdException Locked="false" Priority="72" SemiHidden="false"
UnhideWhenUsed="false" Name="Colorful List"/>
<w:LsdException Locked="false" Priority="73" SemiHidden="false"
UnhideWhenUsed="false" Name="Colorful Grid"/>
<w:LsdException Locked="false" Priority="60" SemiHidden="false"
UnhideWhenUsed="false" Name="Light Shading Accent 1″/>
<w:LsdException Locked="false" Priority="61" SemiHidden="false"
UnhideWhenUsed="false" Name="Light List Accent 1″/>
<w:LsdException Locked="false" Priority="62" SemiHidden="false"
UnhideWhenUsed="false" Name="Light Grid Accent 1″/>
<w:LsdException Locked="false" Priority="63" SemiHidden="false"
UnhideWhenUsed="false" Name="Medium Shading 1 Accent 1″/>
<w:LsdException Locked="false" Priority="64" SemiHidden="false"
UnhideWhenUsed="false" Name="Medium Shading 2 Accent 1″/>
<w:LsdException Locked="false" Priority="65" SemiHidden="false"
UnhideWhenUsed="false" Name="Medium List 1 Accent 1″/>
<w:LsdException Locked="false" Priority="34" SemiHidden="false"
UnhideWhenUsed="false" QFormat="true" Name="List Paragraph"/>
<w:LsdException Locked="false" Priority="29" SemiHidden="false"
UnhideWhenUsed="false" QFormat="true" Name="Quote"/>
<w:LsdException Locked="false" Priority="30" SemiHidden="false"
UnhideWhenUsed="false" QFormat="true" Name="Intense Quote"/>
<w:LsdException Locked="false" Priority="66" SemiHidden="false"
UnhideWhenUsed="false" Name="Medium List 2 Accent 1″/>
<w:LsdException Locked="false" Priority="67" SemiHidden="false"
UnhideWhenUsed="false" Name="Medium Grid 1 Accent 1″/>
<w:LsdException Locked="false" Priority="68" SemiHidden="false"
UnhideWhenUsed="false" Name="Medium Grid 2 Accent 1″/>
<w:LsdException Locked="false" Priority="69" SemiHidden="false"
UnhideWhenUsed="false" Name="Medium Grid 3 Accent 1″/>
<w:LsdException Locked="false" Priority="70" SemiHidden="false"
UnhideWhenUsed="false" Name="Dark List Accent 1″/>
<w:LsdException Locked="false" Priority="71" SemiHidden="false"
UnhideWhenUsed="false" Name="Colorful Shading Accent 1″/>
<w:LsdException Locked="false" Priority="72" SemiHidden="false"
UnhideWhenUsed="false" Name="Colorful List Accent 1″/>
<w:LsdException Locked="false" Priority="73" SemiHidden="false"
UnhideWhenUsed="false" Name="Colorful Grid Accent 1″/>
<w:LsdException Locked="false" Priority="60" SemiHidden="false"
UnhideWhenUsed="false" Name="Light Shading Accent 2″/>
<w:LsdException Locked="false" Priority="61" SemiHidden="false"
UnhideWhenUsed="false" Name="Light List Accent 2″/>
<w:LsdException Locked="false" Priority="62" SemiHidden="false"
UnhideWhenUsed="false" Name="Light Grid Accent 2″/>
<w:LsdException Locked="false" Priority="63" SemiHidden="false"
UnhideWhenUsed="false" Name="Medium Shading 1 Accent 2″/>
<w:LsdException Locked="false" Priority="64" SemiHidden="false"
UnhideWhenUsed="false" Name="Medium Shading 2 Accent 2″/>
<w:LsdException Locked="false" Priority="65" SemiHidden="false"
UnhideWhenUsed="false" Name="Medium List 1 Accent 2″/>
<w:LsdException Locked="false" Priority="66" SemiHidden="false"
UnhideWhenUsed="false" Name="Medium List 2 Accent 2″/>
<w:LsdException Locked="false" Priority="67" SemiHidden="false"
UnhideWhenUsed="false" Name="Medium Grid 1 Accent 2″/>
<w:LsdException Locked="false" Priority="68" SemiHidden="false"
UnhideWhenUsed="false" Name="Medium Grid 2 Accent 2″/>
<w:LsdException Locked="false" Priority="69" SemiHidden="false"
UnhideWhenUsed="false" Name="Medium Grid 3 Accent 2″/>
<w:LsdException Locked="false" Priority="70" SemiHidden="false"
UnhideWhenUsed="false" Name="Dark List Accent 2″/>
<w:LsdException Locked="false" Priority="71" SemiHidden="false"
UnhideWhenUsed="false" Name="Colorful Shading Accent 2″/>
<w:LsdException Locked="false" Priority="72" SemiHidden="false"
UnhideWhenUsed="false" Name="Colorful List Accent 2″/>
<w:LsdException Locked="false" Priority="73" SemiHidden="false"
UnhideWhenUsed="false" Name="Colorful Grid Accent 2″/>
<w:LsdException Locked="false" Priority="60" SemiHidden="false"
UnhideWhenUsed="false" Name="Light Shading Accent 3″/>
<w:LsdException Locked="false" Priority="61" SemiHidden="false"
UnhideWhenUsed="false" Name="Light List Accent 3″/>
<w:LsdException Locked="false" Priority="62" SemiHidden="false"
UnhideWhenUsed="false" Name="Light Grid Accent 3″/>
<w:LsdException Locked="false" Priority="63" SemiHidden="false"
UnhideWhenUsed="false" Name="Medium Shading 1 Accent 3″/>
<w:LsdException Locked="false" Priority="64" SemiHidden="false"
UnhideWhenUsed="false" Name="Medium Shading 2 Accent 3″/>
<w:LsdException Locked="false" Priority="65" SemiHidden="false"
UnhideWhenUsed="false" Name="Medium List 1 Accent 3″/>
<w:LsdException Locked="false" Priority="66" SemiHidden="false"
UnhideWhenUsed="false" Name="Medium List 2 Accent 3″/>
<w:LsdException Locked="false" Priority="67" SemiHidden="false"
UnhideWhenUsed="false" Name="Medium Grid 1 Accent 3″/>
<w:LsdException Locked="false" Priority="68" SemiHidden="false"
UnhideWhenUsed="false" Name="Medium Grid 2 Accent 3″/>
<w:LsdException Locked="false" Priority="69" SemiHidden="false"
UnhideWhenUsed="false" Name="Medium Grid 3 Accent 3″/>
<w:LsdException Locked="false" Priority="70" SemiHidden="false"
UnhideWhenUsed="false" Name="Dark List Accent 3″/>
<w:LsdException Locked="false" Priority="71" SemiHidden="false"
UnhideWhenUsed="false" Name="Colorful Shading Accent 3″/>
<w:LsdException Locked="false" Priority="72" SemiHidden="false"
UnhideWhenUsed="false" Name="Colorful List Accent 3″/>
<w:LsdException Locked="false" Priority="73" SemiHidden="false"
UnhideWhenUsed="false" Name="Colorful Grid Accent 3″/>
<w:LsdException Locked="false" Priority="60" SemiHidden="false"
UnhideWhenUsed="false" Name="Light Shading Accent 4″/>
<w:LsdException Locked="false" Priority="61" SemiHidden="false"
UnhideWhenUsed="false" Name="Light List Accent 4″/>
<w:LsdException Locked="false" Priority="62" SemiHidden="false"
UnhideWhenUsed="false" Name="Light Grid Accent 4″/>
<w:LsdException Locked="false" Priority="63" SemiHidden="false"
UnhideWhenUsed="false" Name="Medium Shading 1 Accent 4″/>
<w:LsdException Locked="false" Priority="64" SemiHidden="false"
UnhideWhenUsed="false" Name="Medium Shading 2 Accent 4″/>
<w:LsdException Locked="false" Priority="65" SemiHidden="false"
UnhideWhenUsed="false" Name="Medium List 1 Accent 4″/>
<w:LsdException Locked="false" Priority="66" SemiHidden="false"
UnhideWhenUsed="false" Name="Medium List 2 Accent 4″/>
<w:LsdException Locked="false" Priority="67" SemiHidden="false"
UnhideWhenUsed="false" Name="Medium Grid 1 Accent 4″/>
<w:LsdException Locked="false" Priority="68" SemiHidden="false"
UnhideWhenUsed="false" Name="Medium Grid 2 Accent 4″/>
<w:LsdException Locked="false" Priority="69" SemiHidden="false"
UnhideWhenUsed="false" Name="Medium Grid 3 Accent 4″/>
<w:LsdException Locked="false" Priority="70" SemiHidden="false"
UnhideWhenUsed="false" Name="Dark List Accent 4″/>
<w:LsdException Locked="false" Priority="71" SemiHidden="false"
UnhideWhenUsed="false" Name="Colorful Shading Accent 4″/>
<w:LsdException Locked="false" Priority="72" SemiHidden="false"
UnhideWhenUsed="false" Name="Colorful List Accent 4″/>
<w:LsdException Locked="false" Priority="73" SemiHidden="false"
UnhideWhenUsed="false" Name="Colorful Grid Accent 4″/>
<w:LsdException Locked="false" Priority="60" SemiHidden="false"
UnhideWhenUsed="false" Name="Light Shading Accent 5″/>
<w:LsdException Locked="false" Priority="61" SemiHidden="false"
UnhideWhenUsed="false" Name="Light List Accent 5″/>
<w:LsdException Locked="false" Priority="62" SemiHidden="false"
UnhideWhenUsed="false" Name="Light Grid Accent 5″/>
<w:LsdException Locked="false" Priority="63" SemiHidden="false"
UnhideWhenUsed="false" Name="Medium Shading 1 Accent 5″/>
<w:LsdException Locked="false" Priority="64" SemiHidden="false"
UnhideWhenUsed="false" Name="Medium Shading 2 Accent 5″/>
<w:LsdException Locked="false" Priority="65" SemiHidden="false"
UnhideWhenUsed="false" Name="Medium List 1 Accent 5″/>
<w:LsdException Locked="false" Priority="66" SemiHidden="false"
UnhideWhenUsed="false" Name="Medium List 2 Accent 5″/>
<w:LsdException Locked="false" Priority="67" SemiHidden="false"
UnhideWhenUsed="false" Name="Medium Grid 1 Accent 5″/>
<w:LsdException Locked="false" Priority="68" SemiHidden="false"
UnhideWhenUsed="false" Name="Medium Grid 2 Accent 5″/>
<w:LsdException Locked="false" Priority="69" SemiHidden="false"
UnhideWhenUsed="false" Name="Medium Grid 3 Accent 5″/>
<w:LsdException Locked="false" Priority="70" SemiHidden="false"
UnhideWhenUsed="false" Name="Dark List Accent 5″/>
<w:LsdException Locked="false" Priority="71" SemiHidden="false"
UnhideWhenUsed="false" Name="Colorful Shading Accent 5″/>
<w:LsdException Locked="false" Priority="72" SemiHidden="false"
UnhideWhenUsed="false" Name="Colorful List Accent 5″/>
<w:LsdException Locked="false" Priority="73" SemiHidden="false"
UnhideWhenUsed="false" Name="Colorful Grid Accent 5″/>
<w:LsdException Locked="false" Priority="60" SemiHidden="false"
UnhideWhenUsed="false" Name="Light Shading Accent 6″/>
<w:LsdException Locked="false" Priority="61" SemiHidden="false"
UnhideWhenUsed="false" Name="Light List Accent 6″/>
<w:LsdException Locked="false" Priority="62" SemiHidden="false"
UnhideWhenUsed="false" Name="Light Grid Accent 6″/>
<w:LsdException Locked="false" Priority="63" SemiHidden="false"
UnhideWhenUsed="false" Name="Medium Shading 1 Accent 6″/>
<w:LsdException Locked="false" Priority="64" SemiHidden="false"
UnhideWhenUsed="false" Name="Medium Shading 2 Accent 6″/>
<w:LsdException Locked="false" Priority="65" SemiHidden="false"
UnhideWhenUsed="false" Name="Medium List 1 Accent 6″/>
<w:LsdException Locked="false" Priority="66" SemiHidden="false"
UnhideWhenUsed="false" Name="Medium List 2 Accent 6″/>
<w:LsdException Locked="false" Priority="67" SemiHidden="false"
UnhideWhenUsed="false" Name="Medium Grid 1 Accent 6″/>
<w:LsdException Locked="false" Priority="68" SemiHidden="false"
UnhideWhenUsed="false" Name="Medium Grid 2 Accent 6″/>
<w:LsdException Locked="false" Priority="69" SemiHidden="false"
UnhideWhenUsed="false" Name="Medium Grid 3 Accent 6″/>
<w:LsdException Locked="false" Priority="70" SemiHidden="false"
UnhideWhenUsed="false" Name="Dark List Accent 6″/>
<w:LsdException Locked="false" Priority="71" SemiHidden="false"
UnhideWhenUsed="false" Name="Colorful Shading Accent 6″/>
<w:LsdException Locked="false" Priority="72" SemiHidden="false"
UnhideWhenUsed="false" Name="Colorful List Accent 6″/>
<w:LsdException Locked="false" Priority="73" SemiHidden="false"
UnhideWhenUsed="false" Name="Colorful Grid Accent 6″/>
<w:LsdException Locked="false" Priority="19" SemiHidden="false"
UnhideWhenUsed="false" QFormat="true" Name="Subtle Emphasis"/>
<w:LsdException Locked="false" Priority="21" SemiHidden="false"
UnhideWhenUsed="false" QFormat="true" Name="Intense Emphasis"/>
<w:LsdException Locked="false" Priority="31" SemiHidden="false"
UnhideWhenUsed="false" QFormat="true" Name="Subtle Reference"/>
<w:LsdException Locked="false" Priority="32" SemiHidden="false"
UnhideWhenUsed="false" QFormat="true" Name="Intense Reference"/>
<w:LsdException Locked="false" Priority="33" SemiHidden="false"
UnhideWhenUsed="false" QFormat="true" Name="Book Title"/>

/* Style Definitions */
table.MsoNormalTable
{mso-style-name:"Table Normal";
mso-tstyle-rowband-size:0;
mso-tstyle-colband-size:0;
mso-style-noshow:yes;
mso-style-priority:99;
mso-style-qformat:yes;
mso-style-parent:"";
mso-padding-alt:0in 5.4pt 0in 5.4pt;
mso-para-margin:0in;
mso-para-margin-bottom:.0001pt;
mso-pagination:widow-orphan;
font-size:10.0pt;
font-family:"Times New Roman","serif";}
---
Posted in Space Foundation News