Space Foundation News
---
Anousheh Ansari Portrait Unveiled at the Discovery Center
Written by: developer
In 2006, Anousheh Ansari captured headlines as the first female private space explorer, the fourth private explorer to visit space and the first astronaut of Iranian descent.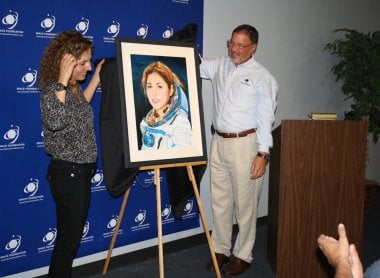 This week, Ansari visited the Space Foundation Discovery Center in Colorado Springs to unveil her portrait on display in the gallery, and to sign autographs for the public.
She said she had always dreamed of going to space ever since she was a young child in Iran and would go outside at night to stare at the stars. She spoke about the challenges of training for space and how much she loved weightlessness, in spite of some initial motion sickness.
Ansari is co-founder and chairman of Prodea Systems, and was co-founder, CEO and chairman of Telecom Technologies, Inc. Learn more about her life at http://anoushehansari.com.
See her portrait on display at the Discovery Center, 4425 Arrowswest Drive, Colorado Springs. The Discovery Center is open Tuesday through Saturday, 10:00 a.m. – 5:00 p.m., with occasional evening events. The Discovery Center is closed on Sunday and Monday and on holidays.
Discovery Center daily admission fees are $10 for adults, $7.50 for seniors (age 65+), $7.50 for college students with I.D., $4.50 for children ages 4-17. Children age three years and younger are admitted free. Military fees are $5.00 for adults with I.D., and $4.00 for military children ages 4-17 with I.D. Military includes active duty, guard, reserve or retiree with I.D.
For information, call 719.576.8000 or visit www.spacefoundation.org/museum.
See photos of the Ansari visit and of Discovery Center activities here.
---
Posted in Space Foundation News