International Affairs
---
Space Foundation Presents Audience With an Astronaut™ at Royal Aeronautical Society Headquarters
Written by: developer
While in London speaking at The Strategic Choices for Space – President's Conference 2014, Space Foundation CEO Elliot Pulham will also speak to students for the World Space Week Children's Space Event at Royal Aeronautical Society Headquarters on Oct. 7.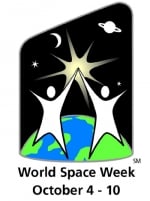 Pulham's presentation will include a Skype version of the Space Foundation's Audience With an Astronaut™ featuring former NASA astronaut Dr. Leroy Chiao speaking to the children from his hometown of Houston, Texas. Chiao was a Space Shuttle astronaut and resident of the International Space Station; he is now the Space Foundation's special advisor – human spaceflight.
The Space Foundation uses its Audience With an Astronaut™ presentations to spark schoolchildren's interest in STEM subjects — science, technology, engineering and mathematics — and to help them better understand space exploration.
This article is part of Space Watch: October 2014 (Volume: 13, Issue: 10).
---
Posted in International Affairs