Report from Washington, D.C.
---
Space Foundation Hosts its First New Generation Mentoring Event in Washington, D.C.
Written by: developer
On Nov. 18, the Space Foundation hosted its first New Generation networking event in Washington, D.C., held on George Washington University's (GWU) campus in the heart of D.C. The event received strong support from Dr. Scott Pace and the Space Policy Institute of GWU, and brought together more than 40 young professionals and 12 senior mentors for an evening of networking.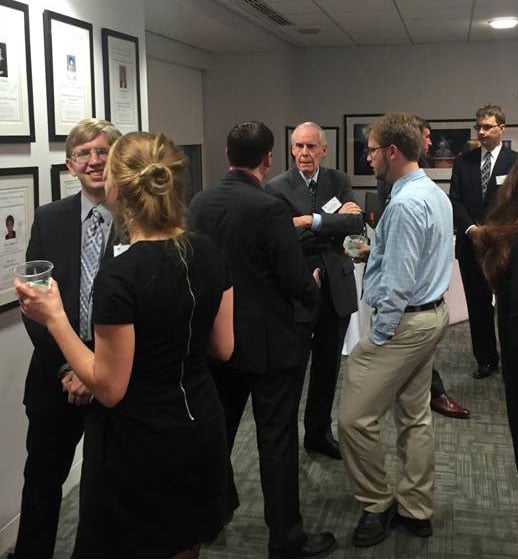 "It's not just tonight," said Space Foundation Board of Directors Chairman Lon Levin, who encouraged the young professionals to remain in touch with the mentors in the room, and to be persistent.
Other mentors in attendance included: John Higgenbotham, Space Foundation Board of Directors; Josh Hopkins, Lockheed Martin; Travis Langster, AGI; Gen. Thomas S. Moorman, USAF (Ret.); Clayton Mowry, Arianespace; Chirag Parikh, National Security Council; Benjamin Roberts, White House Office of Science and Technology Policy; Marcy Steinke, DigitalGlobe; Pete Trainer, Scitor/SAIC; Robert Walker, former Space Foundation Board Member; Ann Zulkosky, Lockheed Martin.
The Space Foundation's New Generation program was founded in 2009 as a forum to connect space professionals aged 35 and younger to foster meaningful, long-term peer relationships and to provide access to top space leaders and opportunities for individual career development and mentorship.
The Space Foundation's New Generation Initiatives include both stand-alone events and targeted programs in conjunction with major space activities and conferences such as the annual Space Symposium. Click here for more information about the New Generation programming at the upcoming 32nd Space Symposium, April 11-14, 2016.
This article is part of Space Watch: December 2015 (Volume: 14, Issue: 12).
---
Posted in Report from Washington, D.C.