Space Symposium
---
World Space Agency Leaders will Open 32nd Space Symposium Panels
Written by: developer
The first panel presentation of the Space Foundation's four-day 32nd Space Symposium will be a discussion of the most pressing global space issues by the world's top space agency leaders. This will be the largest plenary gathering of heads of space agencies at any space conference in 2016.
Confirmed panelists to date include:
Professor Roberto Battiston, President, Italian Space Agency (ASI)
Charles F. Bolden, Jr., (Major General, USMC, Ret.), Administrator, National Aeronautics and Space Administration (NASA)
Dr. Gwang-Rae CHO, President, Korean Aerospace Research Institute (KARI)
Dr. Pascale Erhenfreund, Chair of the Executive Board, German Aerospace Center (DLR)
Jean-Yves Le Gall, President, Centre National d'Études Spatiales (CNES)
Dr. Francisco Javier Mendieta Jiménez, General Director, Mexican Space Agency (AEM)
Ger Nieuwpoort, Ph.D., Director, Netherlands Space Office
David Parker, Ph.D., Chief Executive Officer, United Kingdom Space Agency
Dr. Marious-Ioan Piso, President and Chief Executive Officer, Romanian Space Agency (ROSA)
Johann-Dietrich Wörner, Director, European Space Agency (ESA)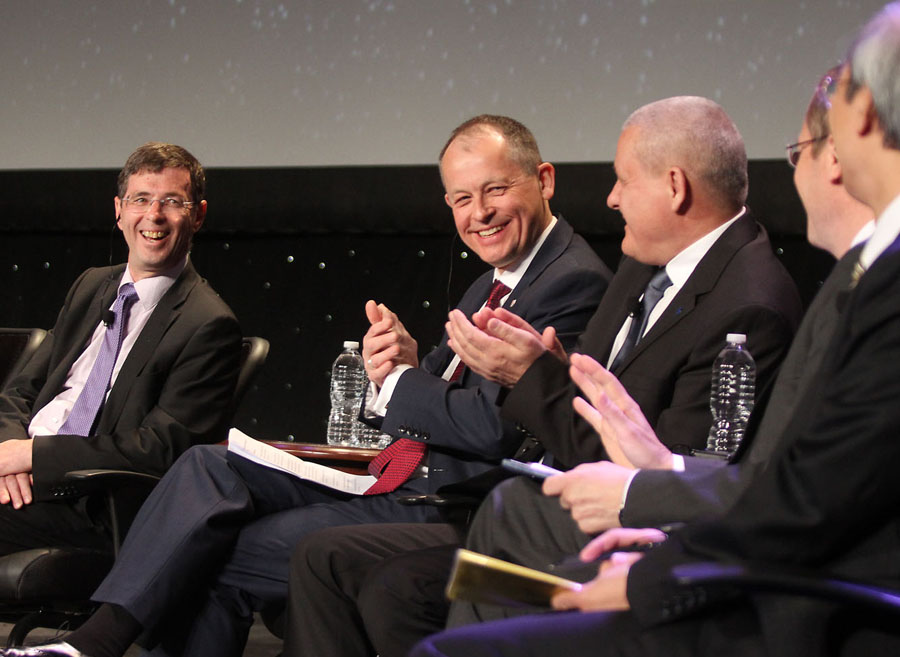 The panel will be moderated by Space Foundation Chief Executive Officer Elliot Pulham, and more agency leaders are expected to join.
The 32nd Space Symposium is slated for April 11-14, 2016, at The Broadmoor in Colorado Springs, Colo., USA. This premier global space conference annually attracts thousands of space professionals from dozens of countries. See the agenda and featured speakers here.
The 32nd Space Symposium will also feature discussion of emergent space technology, and more than 160 displays of the world's latest space technology, products and services in the Lockheed Martin Exhibit Center and Pavilion.
Register for the 32nd Space Symposium before Jan. 22 and Save $400
Visit www.SpaceSymposium.org for secure online registration, meal tickets and secure lodging reservations. A $400 discount is currently available on standard industry registration if paid before Jan. 22, 2016.
Co-sponsors
a.i. solutions; Arianespace, Inc.; ASRC Federal; Colorado Space Coalition; Intelsat General Corporation; Northrop Grumman; Raytheon; Scitor Corporation; SES Government Solutions; Stellar Solutions; United Launch Alliance (ULA). Aviation Week and Space News are official media partners.
This article is part of Space Watch: December 2015 (Volume: 14, Issue: 12).
---
Posted in Space Symposium